Washington — Defense Secretary Donald Rumsfeld angered the White House on Wednesday with a leaked memo questioning whether the U.S. was winning the war on terror.
"This has put Rummy in a bad spot," one Bush administration source said.
"Before this he had personality and policy problems," the source said. "Now he has a credibility problem because he's acknowledged that they've all been putting on a happy face about Iraq."
It was the latest blow for the beleaguered defense secretary. Earlier this month, the White House switched responsibility for rebuilding Iraq from Rumsfeld to national security adviser Condoleezza Rice.
"The president isn't happy," but he won't fire Rumsfeld, a Bush official said.
Officials said sacking Rumsfeld would give the appearance of admitting that Iraq is as big a mess as his critics contend.
White House press secretary Scott McClellan, traveling with Bush in Australia, quickly gave a vote of confidence to Rumsfeld. "That's exactly what a strong and capable secretary of defense like Secretary Rumsfeld should be doing," said McClellan.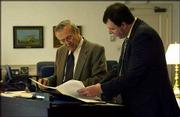 The Oct. 16 Rumsfeld memo to top Pentagon aides, first disclosed by USA Today, warned of a "long, hard slog" in Iraq and Afghanistan, and openly questioned whether the military can win the global terror war.
He complained about "mixed results" on al-Qaida and fretted that terrorism was winning recruits faster than the United States could kill or capture them.
Rumsfeld also wondered if the Pentagon was capable of beating the terrorists and pressed aides to consider whether "to fashion a new institution" to take over the terror war from the military.
Bush officials told the New York Daily News the memo had further diminished Rumsfeld's standing at the White House by embarrassing Bush when his Iraq policy is under constant attack by Democrats and even some Republicans.
While the source of the leak was a prime topic in Washington political corridors Wednesday, there was a broad consensus that the leaker was no friend of the embattled defense secretary.
"Rumsfeld has stepped on many toes at the Pentagon," a senior congressional source said, "and this was the revenge of the toes."
Copyright 2018 The Lawrence Journal-World. All rights reserved. This material may not be published, broadcast, rewritten or redistributed. We strive to uphold our values for every story published.