Miami — Roger Clemens walked off the mound a hero. Alex Gonzalez and the Florida Marlins danced off the field as winners.
Gonzalez led off the bottom of the 12th inning with a home run and the Marlins survived yet another late Yankees jolt, beating New York, 4-3, Wednesday night to even the World Series at two games each.
"I had a feeling. I was strong with the bat," the slumping Gonzalez said.
After both teams saluted Clemens in what might have been his final appearance, pinch-hitter Ruben Sierra saved the Yankees with a two-out, two-run triple in the ninth that tied it at 3.
It turned out the drama was just beginning once the clock passed midnight. And at 12:28 a.m., Gonzalez hit a low line drive off Jeff Weaver that barely cleared the left-field wall for the win.
Gonzalez had been only 5-for-53 this postseason. Weaver, the odd man out on the Yankees' staff for most of the season, pitched for the first time since Sept. 24.
"Just trying to put it in play, man. He threw me that sinker and I got it," Gonzalez said.
Both teams threatened in extra innings, with Marlins reliever Braden Looper escaping a bases-loaded, one-out jam in the 11th and posting the victory.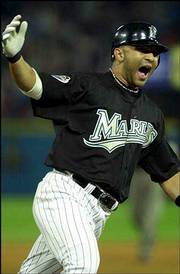 The Yankees had won seven straight extra-inning games in the Series since 1964. The previous two were among the most stirring in their storied history, set up when Tino Martinez and Scott Brosius hit two-out, two-run homers in the bottom of the ninth on consecutive nights against Arizona's Byung-Hyun Kim in 2001.
But the Marlins also knew a thing about late magic. Their last Series win at Pro Player Stadium was an 11-inning victory in Game 7 against Cleveland in 1997.
"That's what this is all about. You've got two great teams that deserve to be here, and you saw great baseball tonight," Yankees manager Joe Torre said.
Now with things all even, it goes to Game 5 tonight. David Wells starts against Florida's Brad Penny in a rematch of the opener that the Marlins won, 3-2.
The Marlins guaranteed the Series will return to Yankee Stadium. And that means there's still a chance Clemens will pitch again -- and it would be in Game 7.
"We got five straight hits in the first inning we thought we were going to get to him early," Florida's Jeff Conine said. "It was really nice to see the crowd give him a send-off like they did."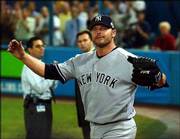 While Clemens did not win, the Yankees at least made sure he did not lose.
Shut down for eight innings by Carl Pavano, New York came back in the ninth against Ugueth Urbina.
Bernie Williams singled with one out, Hideki Matsui walked and Jorge Posada grounded into a force play. David Dellucci came in to run for Posada, and Sierra fouled off two full-count pitches before tripling into the right-field corner.
The Yankees were delirious as they spilled out of the dugout to celebrate the big hit. Earlier, they came off the bench in respectful fashion for Clemens' farewell.
"It was quite memorable for me," Torre said. "I mean, Roger, he just took it all in. I think we'd all like to be in his body and see what it felt like walking off that mound maybe for the last time."
All the elements were in place for Clemens' coronation as one of the all-time greats. His place in the Hall of Fame is already assured, and the Yankees hoped he could go out with a win that would put them one victory for yet another championship.
But the plucky Marlins had other ideas.
Miguel Cabrera, only 1 when Clemens made his major league debut in 1984, put the Marlins ahead with a two-out, two-run homer in the first.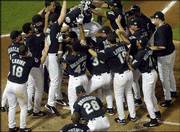 Florida had managed only two runs in the previous two games combined, and his fourth homer of this postseason gave the sellout crowd of 65,934 at Pro Player reason to believe.
Clemens gave up another run in the first, and left after the seventh after striking out Luis Castillo.
Popping flashbulbs lit up the ballpark and Clemens' teammates patted him on the back as he made his way to the bench, waving his hand. The ovation continued and Clemens came out of the dugout to acknowledge the cheers from the Marlins, patting his heart and doffing his cap.
Catcher Ivan Rodriguez clapped his hands as did the other Marlins, and manager Jack McKeon saluted Clemens from the dugout. It made for a rare scene -- opponents saluting someone on the other bench during a game that meant so much.
"It was a classy thing by both teams," McKeon said. "All of our guys were on the top step, giving it their best hand."
Clemens got a no-decision, leaving him at 3-0 lifetime in the World Series. The 41-year-old ace was trying to become the first 300-game winner to win in the Series since Grover Cleveland Alexander in 1926.
Instead, he was outpitched by a guy who grew up idolizing him in Connecticut and later as a prospect in the Boston farm system.
Pavano shut down the Yankees on seven hits and one run over eight innings. He walked none, struck out four and helped himself by getting Derek Jeter to ground into two double plays.
Clemens was the first Yankees player to jog onto the field after New York was done batting in the top of the first.
Eager to get going, he retired Juan Pierre and Castillo on easy grounders. Then suddenly, the Marlins' hit parade started.
Rodriguez singled and Cabrera, after being backed off the plate by an inside fastball, reached out and hit a drive over the right-field wall.
Clemens bent over at the waist as he watched it sail, took a few steps toward the plate and simply signaled umpire Jeff Kellogg for a new ball.
Cabrera's homer was the fourth of this postseason for the 20-year-old rookie.
Florida wasn't finished, either. Conine, Mike Lowell and Derrek Lee singled for another run and a 3-0 lead, forcing Weaver to start warming up in the Yankees' bullpen. The inning ended on Clemens' 42nd pitch, with Gonzalez's bid for a three-run homer falling short of the warning track.
Clemens walked off the mound with his head down while first baseman Jason Giambi trotted by with an encouraging word.
The Yankees began to claw back right away, loading the bases with no outs in the second on three straight singles. Matsui got a break on his infield hit, as he was called safe by first-base umpire Ed Rapuano despite replays showing he was really out by a hair.
Pavano did a great job of limiting the damage, giving up a sacrifice fly to Aaron Boone and then retiring Clemens on a grounder.
With his single in the fifth, Clemens closed his career -- as a hitter, that is -- with a .185 average (5-for-27) with no home runs and one RBI.
Even the infallible Jeter made a rare mistake in a big game. The Yankees shortstop failed to run on his soft looper in the opening inning, perhaps thinking Castillo would catch the ball. The second baseman fielded it on one hop and turned a double play before Jeter was halfway down the line.
Notes: Only one World Series game went longer, Boston's 14-inning win over Brooklyn in 1916. ... Clemens was 1-0 in three previous interleague starts at Pro Player. ... The only two pitchers to win a Series game after turning 40 were John Franco of the Mets (40 in 2000) and Dolf Luque of the Giants (43 in 1933). They both won in relief. ... McKeon wore out an early path toward first base, arguing two calls by Rapuano. They were each right once.
Copyright 2018 The Associated Press. All rights reserved. This material may not be published, broadcast, rewritten or redistributed. We strive to uphold our values for every story published.