Staying late at Horejsi Center and missing the chance to cheer on the Yankees in the World Series didn't seem to bother Kansas University sophomore setter Andi Rozum Wednesday night.
"I'm not paying attention to it anymore now that the Rockies are out of it," joked the Loveland, Colo., native.
At least Rozum and the rest of the Jayhawks were paying attention when Wednesday's match against Texas mattered most.
After winning the first two games, a three-game sweep against a Longhorn team which has dominated the series against the Jayhawks seemed inevitable.
An hour and a half later, a vulnerable Kansas squad, on the verge of letting a crucial Big 12 Conference match slip away, emerged victorious with a 15-7 Game 5 win.
"That's my bad," quipped KU coach Ray Bechard, whose squad knocked off Texas for the third straight time in Lawrence, 30-24, 30-28, 19-30, 25-30, 15-7.
"We could have all been out of here a lot earlier," continued Bechard, whose (14-7 overall, 6-4 Big 12 Conference) team also broke out of a three-way tie for fifth place with Texas and Colorado.
"But that's this sport. If you can figure it out, let me know. When the ebb and flow flows one way it's gone, but we got the breaks in Game 5."
Not that the Jayhawks didn't do a good job of creating those scoring chances.
While Texas opened the scoring when Kansas' Ashley Michaels hit a ball just a bit long, the Jayhawks quickly answered with a kill up front by Rozum.
Kansas tied it at 2 and 3, but took the lead for good when Josi Lima floated a shot over UT's front line for the 4-3 lead.
Rozum and Lima quickly combined for four more points, including two aces by Rozum.
Michaels and Rozum then went to work up front, blocking both of Texas' big hitters, Bethany Howden and Mira Topic.
Topic, the reigning Big 12 player of the week, had 21 kills Wednesday. Howden was even better with a whopping 29, but was limited to only four after the third game.
"They're great players and they're going to get kills," said Michaels, who had a career-high 24 kills of her own. "You just have to limit those the best that you can."
Michaels, who was part of four blocks in the final game, definitely did that.
"It's just the best feeling ever," she said. "It happened against Texas last year. I think we had four consecutive blocks. It happened again this year, and it's just the best feeling. I can't even describe it."
Bechard, whose team will try to move ahead of Colorado Friday night in Boulder, Colo., had no trouble finding words for KU's third victory in 18 meetings with the Longhorns.
"This is the best finish we've had in the first round of Big 12 play," Bechard said. "We are 6-4, but we need to get to 11 or 12 conference wins so the NCAA will not have to make the decision (to select KU for the NCAA tourney)."
Michaels said when the Jayhawks do finally decide to play, they are a tough team to tame.
"We get in funks, but we also know when we need to step out of them," Michaels said. "I think we just pulled together and we were like, 'We want this game, and we have to do it.' And that's what we did."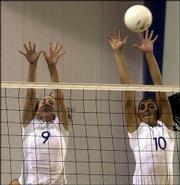 Copyright 2017 The Lawrence Journal-World. All rights reserved. This material may not be published, broadcast, rewritten or redistributed. We strive to uphold our values for every story published.