Dodge drivers lead both the Winston Cup and the NASCAR Truck series with the most victories this season.
But only in the Truck series does Dodge have a chance at winning the points title.
With two of 25 races remaining, Brendan Gaughan leads the NASCAR Truck series with six victories while holding a 45-point advantage over second-place Travis Kvapil for the points championship.
In the Winston Cup series, Dodge driver Ryan Newman leads all drivers with eight wins, but trails series points leader Matt Kenseth by a whopping 300 points with four races remaining.
So officials with Dodge, which wrapped up the manufacturer's title in the Truck series following Gaughan's win Sept. 27 at Las Vegas, are pinning their hopes for a series title to the 28-year-old Las Vegas native.
"He's only got to hold on for two more races to capture the first drivers' championship for Dodge. I know it's a tight race, but you've got to think it looks pretty good for Brendan," said John Fernandez, director of Dodge Motorsports operations.
"He's focused. His team is focused, and he's racing to win. He's already won six times this season, and I wouldn't be surprised to see him in Victory Lane again."
Gaughan, who has worked with Dodge in various off-road series before moving to the Truck circuit, is hoping for even more.
"Not many people in this era get to claim that they've driven for Dodge. In 2001, when they picked us up to do a couple of races here and there, it was 'Well, here's a guy who's working hard. We'll give him some money,'" Gaughan said.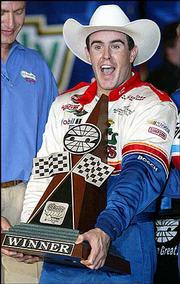 "Then in 2002 running for rookie of the year, we had (a sponsor) and (Dodge) helped us out a little bit. This year, they got rid of some programs and gave us a little bit more. We were happy to get that.
"Now, to come in and prove to Dodge and prove to the racing community that we were worth spending the money they spent on us is pretty special."
Gaughan burst on to the NASCAR Truck series scene with a bang last season, winning two races -- both at Texas Motor Speedway -- and winning rookie-of-the-year honors.
Although he lost his primary sponsor in the off-season, he returned this season with an even stronger organization backed by the financial resources of his father, Michael Gaughan, a Las Vegas casino owner.
Brendan has only five finishes outside the top-10 this season, completed another season sweep at Texas, and in recent weeks has been engaged in a back-and-forth with Kvapil for the points lead.
"This (championship) is going to go to the team that is the best prepared and brings the best truck each weekend," Gaughan said. "It's going to be tight, but we feel like we've got very good Dodge trucks to finish out this year.
"We're keeping our gun loaded."
While Gaughan has put together his championship run this season, his name also has popped up in regards to a possible move to Winston Cup.
Last month, Gaughan said he would remain in the Truck series next season, with Dodge support, and hopes to move to Cup in 2005.
"I think Brendan Gaughan is capable of going into Winston Cup. I think he deserves a shot at Winston Cup and hopefully he'll get that in the next couple of years," Fernandez said. "He's mature enough and has enough confidence that he could make the move to Cup.
"I think the one thing Brendan Gaughan brings to a sponsor is tremendous charisma and the ability to talk to people. Even if he wasn't running up front the first year, I think he could still do a lot with the sponsor."
Copyright 2018 The Lawrence Journal-World. All rights reserved. This material may not be published, broadcast, rewritten or redistributed. We strive to uphold our values for every story published.