Belfast, Northern Ireland — A day billed as a breakthrough for Northern Ireland peacemaking hit a diplomatic impasse Tuesday as Protestant leaders rejected the Irish Republican Army's biggest-ever disarmament move as too secretive.
The prime ministers of Britain and Ireland, Tony Blair and Bertie Ahern, came to Northern Ireland to launch a Nov. 26 election for the province's empty legislature, the intended bedrock of a joint Catholic-Protestant administration for this British territory.
Their mission was supposed to have been bolstered by the IRA's first act of disarmament in 18 months. But it ended late at night with their acknowledgment that an agreement between the two key parties -- the IRA-linked Sinn Fein and the Ulster Unionists, a major British Protestant party -- had slipped away.
John de Chastelain, the retired Canadian general trying to coax the IRA and other outlawed groups to disarm, confirmed that the IRA had allowed him to inventory and "decommission" a cache of automatic rifles, explosives and other weapons Tuesday. He said the amount of weaponry was "considerably larger" than on the previous occasion in April 2002.
Blair and Ahern soon found themselves leading an emergency negotiating session after Ulster Unionist chief David Trimble -- whose British Protestant party is essential for any revival of power-sharing -- lambasted the IRA for insisting on keeping its latest act of disarmament maddeningly vague.
Trimble said his party would only resume power sharing if the IRA made public the details of its decommissioning process. But Trimble added that he would meet again today with Sein Fein.
The Ulster Unionists were to have declared that they wanted to resume power-sharing with Sinn Fein based on the latest IRA moves. Such a declaration was to have been the last step in a string of choreographed statements and events Tuesday.
Sinn Fein leader Gerry Adams called Trimble's decision "deeply disappointing," but defended the IRA's determination to keep its handover of weaponry secret, which is seen as a face-saving measure.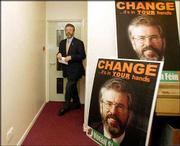 Copyright 2017 The Associated Press. All rights reserved. This material may not be published, broadcast, rewritten or redistributed. We strive to uphold our values for every story published.