New York — Microsoft Corp. launched the newest version of its Office software Tuesday, kicking off a $150 million ad campaign in hopes of convincing customers that the upgrade is worth the cost despite a skittish economy.
Investing in the new Office software will help workers better collaborate on projects and increase business productivity without requiring serious hardware upgrades, Microsoft chairman and chief software architect Bill Gates said.
"Other than the mobile phone, really the only thing that's making (workers) more effective is the software," Gates said, shortly before unveiling the new products on a Manhattan theater stage.
The launch reflects a big shift in strategy for the world's largest software maker as competitors chip away at Microsoft's dominance by offering customers cheaper business programs based on free Linux open-source technology.
Microsoft is not pushing so much its traditional core Office suite, a package of programs including the Word document-processing, Excel spreadsheet and PowerPoint presentation products, as much as trying to distinguish itself from competitors by touting the overall system behind the new Office -- expensive server software that runs in the background to power features on workers' desktop computers or wireless phones.
But Gates dismissed the challenge coming from open-source programs, including those written for operating systems such as Linux.
"The distance between what we have and what the free software has is greater today than it's ever been," he said. The new Office product's biggest competitors, he said, were its predecessors, most recently Office XP, released two years ago.
Microsoft has reason to be protective of its turf.
The company's Office launch is a strategy change for its second most-profitable business division. Business software accounted for $9.2 billion in sales in its 2003 fiscal year, with operating profits of $7 billion -- a 76 percent profit margin. It is second only to Microsoft's core Windows operating system business in revenue and profits.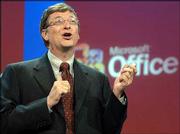 But Microsoft has more than itself to compete against, analysts said, pointing to tight technology spending in the wobbly economy.
For companies that did not sign up for multiyear licensing programs with Microsoft, the new Office package may not be compelling enough to shell out the money to upgrade, said Joe Wilcox, with Jupiter Research.
In addition, companies may be turned off that they need to buy new server software to get the full benefits of many new features, he said. "That might be a tough sell in this economy."
The Office suite ranges from $149 to $499, depending on edition -- student/teacher, standard or professional. Server software, however, costs thousands of dollars, such as SharePoint Portal Server, which retails for $5,619.
Companies aren't convinced that the Office system is better than how they currently operate, said Ted Schadler, an analyst with Forrester Research. "They're not quite able to visualize why a consolidated communications and collaboration platform is a whole lot better than what they're doing today," he said.
Changes in the core programs are fairly modest except for a major revamp of the Outlook e-mail, calendar and address book, which reviewers have called the most notable improvement.
The programs in the package also now let users store files in the Internet-friendly XML format. They include a pane for researching topics in various online resources and offer the ability to instant-message co-workers from within programs.
But some of the new features rely on new or updated server software released Tuesday that include Live Communications Server, SharePoint Portal Server and other products that promote group collaboration and joint work on documents.
Microsoft also unveiled its Information Rights Management software for controlling who may view, forward or print sensitive documents. Gates said customers clamored for ways to protect their intellectual property and confidential data, but critics fear the controls also may block collaboration across companies who operate on nonMicrosoft platforms.
Microsoft's new strategy seeks to leverage its strength in office software to boost sales of its less pervasive server software, said Rob Helm, with the independent research firm Directions on Microsoft.
Microsoft's Office products dominate the market with some 400 million users, but they face cheaper and free competitors, including Sun Microsystem's StarOffice suite, which costs $79.95 and its free open source version, OpenOffice.
Although neither of them has an application that rivals Outlook in its versatility, StarOffice and OpenOffice boast compatibility with Microsoft's main Office applications and analysts say those programs suffice for many companies.
"We think from a value perspective and feature perspective, it really meets the needs of most users," Curtis Sasaki, Sun's vice president for desktop solutions, said of StarOffice. "I'm not sure everyone needs all the features in Microsoft Office 2003.
Copyright 2018 The Associated Press. All rights reserved. This material may not be published, broadcast, rewritten or redistributed. We strive to uphold our values for every story published.