Miami — Derek Jeter did what none of the other Yankees could: He got a hit off Josh Beckett.
When Beckett was breezing through the New York lineup, looking like a modern-day Don Larsen, Jeter doubled in the fourth inning to become his team's first runner and scored the tying run.
Jeter doubled again in the eighth to chase Beckett and scored the go-ahead run when Hideki Matsui singled to break up the tie, sending the Yankees to a 6-1 win Tuesday night over Florida and a 2-1 World Series lead.
When the Yankees were down 5-2 in the eighth inning against Boston in Game 7 of the AL championship series, Jeter got them going with a double that started the three-run rally off Pedro Martinez.
Beckett was throwing 97 mph fastballs and popping curves by the rest of the Yankees, making them look like the Detroit Tigers. But Jeter? He was the only one Beckett couldn't solve.
"He was throwing the ball extremely well," Jeter said.
Whenever Jeter didn't get a hit, Beckett had a 1-2-3 inning. Jeter went 3-for-4 against Beckett. The rest of the Yankees went 0-for-21.
"We were aware of that," Yankees manager Joe Torre said. "We kept wanting him to come up again."
Jeter struck out in the first, swinging over a pitch. He pulled a double down the left-field line in the fourth and wound up coming home when Jorge Posada walked on a close 3-2 pitch that had Florida fuming at plate umpire Gary Darling.
Jeter singled, leading off the sixth, but was stranded at second. Then in the eighth, he shot an opposite-field double to right with one out, finishing Beckett's night. Jason Giambi walked against Dontrelle Willis and Bernie Williams flied out, with Jeter tagging up and moving to third. When Matsui sent an opposite-field single to left, Jeter came home with the lead.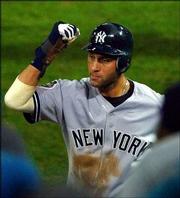 "His fastball cut a little bit," Jeter said. "I was looking for a pitch away, and it moved farther away. I was fortunate to hit it down the first-base line."
With a rested Mariano Rivera warming up in the bullpen, that was all the Yankees needed. Home runs by Aaron Boone and Williams just made the game look more lopsided than it was.
Jeter already was looking ahead.
"This game means absolutely nothing if we don't come back and win tomorrow," he said.
Copyright 2018 The Associated Press. All rights reserved. This material may not be published, broadcast, rewritten or redistributed. We strive to uphold our values for every story published.