Michael Lee is not haunted by ghosts and goblins and bumps in the night this Halloween season.
Lee, Kansas University's 6-foot-3 junior guard from Portland, Ore., is spooked by the worst horror film of all -- the tape of last year's 81-78 loss to Syracuse in the NCAA Finals at the Superdome in New Orleans.
"I've watched it maybe three times. It's hard to sit and watch the game. I can watch it, but as it gets closer to the end I tend to stop the tape," said Lee, who had a possible game-tying three-pointer rejected by Syracuse's Hakim Warrick with about two seconds remaining in the game.
"I've watched that shot a million times," said Lee, who received a pass in the corner from Kirk Hinrich, and, seemingly wide open, was stunned when the 6-foot-8 Warrick appeared out of nowhere to bat the attempt into the stands.
"I've thought of a million things I could have done, shoot it, pump fake, step over, lean into him and try to get fouled, anything," Lee said. "I've played that shot over and over."
He deduced he simply was a victim of a great play by Warrick in the Orangemen's suffocating 2-3 zone defense.
"I don't think anybody else in that gym could have made that play," Lee said. "I've slowed it down. He literally was on the other side of the basket when I caught the ball.
"He took two large steps and stretched out. I didn't even know it got blocked. I thought the shot was over his head until I saw the crowd react. I looked back and the ball was in the second row."
The worst thing is Lee -- he hit two of eight shots in the title game for five points -- believes if not for Warrick, the shot would have swished.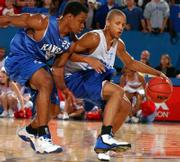 "I knew that was going in," said Lee. "But we'll never know. It felt good, though."
Overall, KU sixth-man Lee felt great about his sophomore season at KU -- make that the final 31 games of his sophomore season at KU.
He was feeling down in the dumps after playing four minutes total in the Preseason NIT in New York, where KU dropped two games and headed back to Lawrence with a 3-3 record.
At that point, it looked like Lee would be a seldom-used player, just like his freshman year.
"It was hard my freshman year. Nothing was working. I felt stuck, stranded, like what do I do next?" Lee said. "At the same time, I came here with Aaron (Miles, best friend from Portland). I enjoyed every minute of Aaron's success, but I wanted some success too.
"I worked hard in the offseason, then after we came back (from New York) last year I told Aaron, 'Man if I've got to go through this another year I am not going to be here.' I wasn't even in practice mentally. I was out there floating around.
"Coach (Roy) Williams pulled me aside after the first practice when we got back and said, 'Michael, I know I haven't really given you a fair chance to play, but what you showed me today is you don't even want to play.' Those were his exact words. I still remember that.
"From that point on, I stopped making excuses, that he is not letting me play. I said, 'Maybe I'm not earning it.'"
The rest is history. Lee developed into KU's ultra-reliable sixth man, averaging 4.9 points and 2.3 rebounds in 37 games. He proved pivotal in KU's run to the national finals.
"I never really questioned my ability," Lee said, "it was a matter of being on the court to show it. I feel if I can continue to work hard, everything else will take care of itself. I am ready to fill any role on this team. I feel I've earned everything here.
"Nothing's been given to me and I will continue to play as hard as I can every day and do what I can to help Kansas win."
KU coach Bill Self likes Lee's work ethic and mindset.
"I think Mike Lee in his mind believes last year was his breakthrough year and this year is his year," Self indicated.
¢
First impressions: Self has led the Jayhawks through four official practices.
"We've done OK," the first-year KU coach said. "I don't think we've done great. We definitely have an outscore-our-opponent mentality, which is fine as long as you realize it's a lot easier to score when you get stops. We don't quite grasp that yet."
In other words ... the defense hasn't been all that dandy yet.
"I'd say today was the worst one (practice) we had yet. We looked like we were tired, not mentally there," Self said Tuesday.
KU senior Bryant Nash, who bruised his right thumb at practice Monday, had his wrist and thumb taped for practice Tuesday.
Nash, who had offseason surgery to stabilize a torn ligament in his right thumb and repair torn cartilage in the wrist, is OK and shouldn't miss any time, Self said.
¢
No roster additions: KU's coaches have decided to not add any of the 20 walk-on hopefuls to the roster.
"In any other year some of these guys may have had a chance to make the team," KU assistant Tim Jankovich said, "but this year, due to numbers it would take an extraordinary basketball player."
The Jayhawks have 16 players on the roster, including four walk-ons.
"With our numbers we're not able to better ourselves by adding anybody this year," Jankovich said, "but hopefully some of those guys will return and have a chance to make the team next year."
Copyright 2017 The Lawrence Journal-World. All rights reserved. This material may not be published, broadcast, rewritten or redistributed. We strive to uphold our values for every story published.