Clearwater, Fla. — Acting on orders from Gov. Jeb Bush, a hospital began giving fluids to a brain-damaged woman Tuesday, six days after her feeding tube was removed in one of the nation's longest and most bitter right-to-die battles.
A judge later rejected a request by the woman's husband to overturn the governor's order.
Terri Schiavo was being rehydrated intravenously after the Legislature rushed to pass a bill designed to save her life, according to her parents' lawyer. Schiavo's parents have fought to keep her alive. Her husband, Michael Schiavo, says she would rather die.
An ambulance took Schiavo from a Pinellas Park hospice to Morton Plant Hospital after Bush issued his order to resume feeding her. A crowd cheered outside as she left.
"I'm ecstatic she's being fed again," said her brother, Bob Schindler Jr. "I don't think I can describe the way I feel right now. It's been unreal."
Hours earlier, the Senate voted 23-15 for legislation to save Schiavo. Within minutes, the House voted 73-24 to send the bill to Bush. The governor signed it into law and issued his order about an hour later.
"It's restored my belief in God," said Schiavo's father, Bob Schindler.
Michael Schiavo, meanwhile, was "deeply troubled, angry and saddened that his wife's wishes have become a political pingpong," said his attorney, George Felos. "He, as many others, is absolutely stunned at the course of events."
Terri Schiavo's feeding tube was removed last Wednesday. Doctors said the 39-year-old woman would die within a week to 10 days without nutrition and water.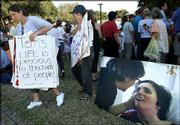 Suzanne Carr, the woman's sister, called lawmakers' action "a miracle, an absolute miracle."
Her mother, Mary Schindler, broke down and cried after the Senate vote.
Felos scrambled to try to stop Bush's order.
Felos filed a request for an injunction, but Pinellas Circuit Court Judge George Greer denied it on technical grounds. Felos refiled the request, and State Circuit Judge W. Douglas Baird also refused to grant it.
Copyright 2018 The Associated Press. All rights reserved. This material may not be published, broadcast, rewritten or redistributed. We strive to uphold our values for every story published.