Not too long ago, I spotted Wayne Simien entering a local sandwich shop and resisted the urge to ask him The Question. I figured he had heard it enough already and that he didn't need to hear it from me.
Later, at Kansas University's preseason basketball media day, Simien confirmed my suspicions.
"Yeah, people ask me on campus, at IHOP, at Wal-Mart ..." he said. "I appreciate people asking me how I'm doing."
Parenthetically, if you happen to spot Simien in an eatery, please remember it is a breach to etiquette to approach a person while he is eating. Thank you.
Oh, I almost forgot. The Question. Not that you don't know what it is. You may not if you spent the last year tagging penguins in Antarctica, but otherwise you're fully aware the 6-foot-9 junior missed 22 games of the 2002-2003 season with a shoulder injury.
How's your shoulder, Wayne?
"I feel I'm 100 percent," he said for what surely must have been the umpteenth time.
Simien and senior Nick Collison began last season as starters in the double post. Both were averaging double-figures in scoring and nearly double-figures in rebounding through December.
Then Jan. 4, Simien caught his right hand in a net at Kemper Arena during a blowout of UMKC, and he popped the shoulder out of joint, basically ending his season. Simien had a short but not very sweet four-game comeback weeks later -- a time when the word "tweak" came into vogue -- then he was finally shut down for his own good.
Few teams could afford to lose as talented a player as Simien and still go to the NCAA Final Four, but the Jayhawks did -- in large part because junior-college transfer Jeff Graves pushed his game up a notch, as did Collison.
Now, in one of the most curious of ironies, Collison, who was a first-round draft pick of the Seattle SuperSonics, will miss his NBA rookie season because of a shoulder injury. As it turned out, Sonics' physicians determined that both of Collison's shoulders were so loose they could just as easily have sustained severe damage during his last year at KU.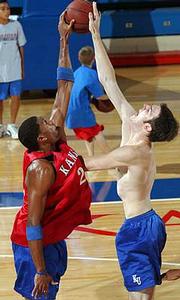 Is there anyone who believes Kansas would have reached the 2003 Final Four with both Collison and Simien in street clothes?
Anyway, what happened to Collison was eerily reminiscent of Danny Manning's rookie NBA season with the Los Angeles Clippers in 1988-89. Collison and Manning had at least one thing in common when they wore Kansas uniforms. Neither missed a single game because of an injury. Manning, in fact, logged more minutes than anyone who ever played for the Jayhawks.
As collegians, Collison and Manning were virtually indestructible. In retrospect, Manning lasted longer as an NBA rookie than Collison did. The 6-10 wheelhorse of KU's 1988 NCAA championship team made it to the Clippers' 26th regular-season game before suffering the most dreaded sports injury of all -- a torn anterior cruciate ligament. Yet Manning bounced back from that injury -- and two more ACLs -- to have a productive professional career, as Collison hopefully will.
Given the Collison and Manning scenarios, it wouldn't surprise me if Simien, who has had shoulder injuries in high school and in college, pulled a reversal and enjoyed a long, injury-free NBA career. In fact, if Simien has a solid, healthy junior year, he will be projected as a lottery pick in the 2004 NBA Draft.
"That'll come when it comes," Simien said. "Right now it doesn't mean anything. I have two years left as a Jayhawk, and that's what I'm concentrating on."
Simien is due for an injury-free season, that's for sure. Shoulder woes kept him out of the state high school playoffs as a senior at Leavenworth High, and arthroscopic knee surgery cost him five games during his freshman season with the Jayhawks. Then came that wildly improbable shoulder injury last winter.
"It's nothing about me being injury-prone," Simien said. "It was just a freak accident. You walk on the street, things can happen."
Just as a gambler's lucky streak is destined to end, you have to think Simien's unlucky streak has run its course.
Copyright 2018 The Lawrence Journal-World. All rights reserved. This material may not be published, broadcast, rewritten or redistributed. We strive to uphold our values for every story published.