Despite John Randle's having just three carries in the previous six quarters, Kansas University football coach Mark Mangino didn't hesitate to use the freshman running back for most of the second half Saturday against Baylor.
Randle paid back his coach's confidence, rushing seven times for 55 yards and the game-winning touchdown.
Randle's 12-yard touchdown run and a 23-yard scamper two plays earlier came on option runs, with Randle showing his speed and acceleration around the corner and past the first line of defenders.
"I thought there were some plays that his ability to cut and make people miss at the first level, or second level, of the defense -- I thought those possibilities were there on some plays," Mangino said. "They were plays that were suited to his talent, but I'm starting to think every play is suited to his talents."
Randle rushed just twice for 12 yards in KU's 50-47 overtime loss to Colorado last week and had one carry for no yards in the first half against the Bears.
With KU's offense unable to put together a sustained drive against Baylor, though, Mangino replaced starting tailback Clark Green with Randle, who responded with the best game of his short career.
Not that Randle expects to start next week against Kansas State.
"Whatever I can do to get the ball, I'll do," he said. "If they role-play me, or whatever. I get in and take advantage of every play I get and try to score. I'm trying to score on every play."
Mangino said he wanted to use Randle more, but not at the expense of Green.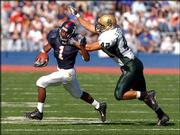 "He's a workhorse for us," Mangino said of Green, "but they compliment each other. We've got to get John Randle out on the field as much as we can. He can make people miss, and he can accelerate. He can kick that extra gear in that you talk about with running backs."
That extra gear gives defenses another facet of KU's high-powered offense to fear and is an extra advantage for the Jayhawks after the opposing defense has been battered and slowed down trying to stop Green for a few drives.
"They were kind of worn down a little bit," Randle said of the Bears in the fourth quarter. "I got in there, ran hard, and because they were worn down hit the outside a little bit. They weren't used to that, and we gassed them on the outside."
Having a teammate with breakaway speed is a welcome addition for Green, a sophomore who rushed for 813 yards on 197 carries last season as KU's featured back. In fact, Green had more than 77 percent of the team's rushes from running backs and 165 carries more than backup Reggie Duncan.
While Green still leads KU's running backs with 125 rushes and 626 yards, Randle's totals -- 49 carries for 305 yards -- have lessened the load on Green and made opposing defenders more honest.
"It's pretty good because you can always have people on their toes," Green said.
What Green, Randle and KU's other tailbacks also want are touchdowns. KU has 31 touchdowns -- 16 passing and 15 on the ground. Of those 15, though, seven have been by quarterback Bill Whittemore, leaving just a handful of scores for the running backs.
"I was trying to play my role, play hard just like the other tailbacks do and just get in the end zone," Randle said of Saturday's victory. "That's what we want to do. We love getting in the end zone. Receivers always get in there. We got to get in there too, sometimes."
Copyright 2017 The Lawrence Journal-World. All rights reserved. This material may not be published, broadcast, rewritten or redistributed. We strive to uphold our values for every story published.