New York — These fish can fly.
Juan Pierre and the Florida Marlins had the Yankees on the run from the very start, stealing the World Series opener, 3-2, Saturday night from a New York team that looked as if it was still recovering from its last game.
"We're going to try to create havoc for the rest of the series," Pierre said. "We let them know what we're about, that we're going to keep pressure on them all Series."
True to form, the Yankees showed up in the ninth inning and threatened after drawing a pair of walks. But somehow the Marlins held on, and it was speed that made the difference.
After a pair of walks, Ugueth Urbina got Alfonso Soriano on a called third strike and then retired Nick Johnson on a fly ball when Pierre streaked in from center field to end it.
"Speed definitely makes the difference," Yankees manager Joe Torre said. "We got a first-hand look at it tonight."
Pierre led the majors with 65 steals this season, and the Marlins had the most overall. They showed off their speed in a hurry with Pierre leading off with a bunt single and Luis Castillo following with a hit-and-run single.
"When you have one of those speed guys on, you certainly don't want a merry-go-round," Torre said.
With that, the wild-card Marlins were off in this 100th anniversary Series. Pierre later added a two-run single and a stolen base as Florida defeated David Wells and ended New York's record string of 10 straight home Series wins.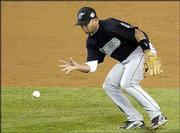 "I don't know why we should be awed. It's a credit to the players. They don't worry about where they're playing," Marlins manager Jack McKeon said.
Brad Penny, Dontrelle Willis and Urbina made the lead stand up -- something that San Diego, the New York Mets and Arizona could not do in the late innings of previous Octobers at Yankee Stadium.
These Yankees seemed spent, having wrestled Boston to a draining but spectacular Game 7 win that took 11 innings and lasted into Friday's wee hours. The Marlins also needed seven games to beat the Cubs in the league championship series, but had an extra day to rest.
NLCS MVP Ivan Rodriguez starred in his Series debut. He hit a sacrifice fly in his first at-bat and the 10-time Gold Glove catcher later picked off Johnson at third base to cut short a rally.
The biggest play, however, might have come when third baseman Aaron Boone -- whose homer won that Game 7 -- failed to throw a relay to the plate and allowed a run to score. The mistake angered Wells, who spun around in disgust.
"I couldn't tell" whether Boone had a chance, Torre said.
The Yankees will try for a split at home when Andy Pettitte starts Game 2 Sunday night against Mark Redman.
New York also lost the openers in their other two postseason series this year, to Minnesota and the Red Sox and Pettitte followed both with a win.
"It's not something you plan," Torre said. "It's nice to have that track record."
Penny, bumped from the NLCS rotation after a poor start against Chicago, did a nice job in limiting New York to two runs in 5 1/3 innings. Willis, the 21-year-old All-Star rookie, bounded off the mound after 2 1/3 scoreless innings and exchanged a chest bump with Urbina after the closer struck out Jorge Posada with runners on first and third to end the eighth.
While the Marlins' pitching held the Yankees, their speed made them jumpy, just as they hoped it would.
"We bring our style to the Stadium," Pierre said.
Pierre put the Marlins ahead 3-1 with his two-run single in the fifth. The inning began when Jeff Conine drew an uncharacteristic walk from Wells, the best control pitcher in the majors this season.
Juan Encarnacion singled and the Marlins stuck with their small-ball ways as Alex Gonzalez sacrificed the runners into scoring position.
The Yankees rearranged their defense when Pierre stepped up, pulling in their infield and moving center fielder Bernie Williams toward left and into a medium-shallow spot.
No matter. Pierre slapped a sharp single past shortstop Derek Jeter, and the Marlins were off. Even though left fielder Hideki Matsui was on the ball quickly, third-base coach Ozzie Guillen kept waving home Encarnacion from second.
Encarnacion was halfway between third and home when Boone caught Matsui's relay on the infield grass. But Boone never looked home, where he appeared to have a play, and instead made a late attempt to nab Pierre rounding first.
Williams hit his 18th career postseason homer, tying the record shared by Mickey Mantle and Reggie Jackson. The solo shot in the sixth pulled the Yankees within 3-2 and was his fourth World Series home run -- he's hit most of his in playoff games, unlike Jackson and The Mick.
The sellout crowd of 55,769 sounded a bit subdued until Jeter hit an RBI single in the third. After that, the familiar chant of "Let's Go, Yankees!" began to reverberate through the ballpark.
With runners at the corners later in the inning, Penny escaped without further damage -- with a big assist from Rodriguez.
After Williams hit a shallow fly ball for the second out, Rodriguez snapped a throw to third baseman Mike Lowell that picked off a scrambling Johnson. Rodriguez is known for his cannon arm and his confidence in using it at any time -- Matsui was at the plate with a 2-1 count when Pudge unleashed it.
The Marlins hoped their speed would cause problems for the Yankees. It did, right away.
Pierre led off the game with a bunt single, pushing the ball past Wells into the Bermuda Triangle between first base, second base and the mound. A day earlier, preparing for his first game at Yankee Stadium, he practiced that exact play and tested how slick the infield grass was.
"With the bunt, they didn't look comfortable the rest of the game," Pierre said. "The next time up, I could hear the bench coach yelling, 'Move up, Soriano."'
Pierre was running when Castillo followed with a little blooper to the right side. The ball would've been an easy play for Soriano, but he was covering second base and the ball fell for a hit-and-run single as Pierre cruised into third.
Rodriguez picked up right where he left off in the first two rounds, hitting a sacrifice fly in his first Series at-bat. The NLCS MVP has 17 RBIs in 12 postseason games this year.
Notes: Wells fell to 10-3 in his postseason career. ... Rodriguez has 72 career pickoffs. ... Among the celebrities in the crowd: Sarah Jessica Parker and husband Matthew Broderick, Hall of Fame pitcher Bob Gibson and Spike Lee, normally seen courtside at New York Knicks' games.
Copyright 2018 The Associated Press. All rights reserved. This material may not be published, broadcast, rewritten or redistributed. We strive to uphold our values for every story published.