Boston — David Wells is a longtime, die-hard Babe Ruth fan, and he's doing his best to keep The Curse alive.
Wells worked his way out of trouble to put the New York Yankees on the verge of another World Series, beating the Boston Red Sox, 4-2, Tuesday for a 3-2 lead in the AL championship series.
The Boomer sent the Yankees back to the Bronx with two chances to extend Boston's perennial heartache, which began after the Red Sox sold Ruth to the Yankees in 1920.
"I live for this time," the 40-year-old left-hander said. "I live for being the guy to go out there and be the one on the mound, try to make things happen, try to shut the other team down because I'm not afraid to fail."
New York headed home with Andy Pettitte and Roger Clemens rested and ready for the final two games of the series, which continues today at Yankee Stadium. One win would give the Yankees their fifth AL pennant in six seasons and sixth in eight years under manager Joe Torre.
"We never get overconfident," Yankees captain Derek Jeter said.
Boston planned to start John Burkett, 0-6 against the Yankees in his career in the regular season, against Pettitte in Game 6, holding Pedro Martinez back for a seventh game rather than pitch him on three days' rest. But knuckleballer Tim Wakefield, who has both of his team's wins, said he thought he would be available if the Red Sox wanted him in relief.
"It'll be tough," said Game 5 starter Derek Lowe, who dropped to 0-2 in the series.
Still in the minds of the Red Sox is the first-round win over Oakland, when Boston lost the first two games, then won three in a row.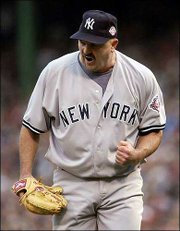 "The clock is ticking on us right now," Red Sox manager Grady Little said. "This isn't something we've never been through before. We were through this about a week ago."
Karim Garcia, who cut a knuckle in Saturday's bullpen scuffle with a member of Boston's grounds crew, was inserted into New York's lineup just before gametime and hit a two-run single in the second. Boston fans taunted Garcia in the ninth with a sing-song chant of "Jailbird."
David Dellucci originally was slated to start in right field, but Torre told Garcia he was in the lineup after watching him in batting practice.
"His eyes lit up," Torre said. "He thanked me."
Alfonso Soriano followed Garcia's hit with an RBI single -- it was the first time either team scored as many as three runs in an inning during the series -- and later made a fantastic backflip that helped stifle a Boston rally. Hideki Matsui added a run-scoring grounder in the eighth.
While New York is seeking its 39th AL pennant, Boston is trying to get to the World Series for the first time since 1986. And, as Yankee fans are sure to point out tonight, the Red Sox haven't won the World Series since 1918.
Wells revels in the history of the Yankees, but both delights and distracts his team. He gets big wins, but also causes big trouble from time to time.
"We know what he's capable of doing," Torre said. "Whatever it takes to get the best out of someone -- we're all in this thing for one reason, and that's the win."
Wells improved to 10-2 in the postseason, allowing four hits in seven innings and just one run -- Manny Ramirez's homer in the fourth. It was his second big win against Boston. The Red Sox had cut New York's AL East lead to 1 1/2 games before Wells beat them 3-1 on Sept. 7.
Mariano Rivera finished for his fourth save of the postseason. He allowed his first run of the playoffs when Todd Walker tripled off the right-field wall leading off the eighth and scored on a groundout by Nomar Garciaparra -- his first RBI of the playoffs.
Garcia got the chance to be New York's offensive star when he showed his manager his hand was OK.
"I had to impress Mr. Torre that I could swing the bat, first of all, and I could hit the ball out of the park," he said.
Garcia tried to ignore the Boston fans, who taunted him in the ninth.
"They can say whatever the like to," he said.
Lowe, who lost to Pettitte in Game 2, got in trouble in the second when he walked Jorge Posada with one out and, following a forceout, decided to intentionally walk Nick Johnson after falling behind 3-0.
Aaron Boone hit a hard bouncer to third that went off Bill Mueller's glove and into the air, with Mueller unable to grab it with his bare hand on the first try.
Garcia, 1-of-10 against Lowe in the regular season, lined a sinker into center for a 2-0 lead. Soriano, 1-for-16 in the series at that point, hit a hard smash into right field on the next pitch for a 3-0 lead.
Boston went 0-for-5 with runners in scoring position. The Red Sox put runners on second and third with one out in the third and loaded the bases in the fifth but didn't score either time. Garciaparra ended the third with a strikeout and Ramirez closed the fifth by grounding into a forceout at third.
Soriano made the biggest play of the fifth when he ran toward second on Johnny Damon's one-out grounder up the middle, stretched to the shortstop side of the base and with his glove flipped the ball back to Jeter, who caught it with his bare hand for the force.
Despite its failures, Boston is confident Martinez will get to pitch against Clemens in a Game 7.
"That's the way it's going to be," first baseman Kevin Millar said. "Now we've got to find a way to get it even up."
Copyright 2018 The Associated Press. All rights reserved. This material may not be published, broadcast, rewritten or redistributed. We strive to uphold our values for every story published.