Unlike the conditions at the Free State High soccer team's lightning-shortened 1-0 loss Monday at Shawnee Mission South, the weather was calm and clear for its Tuesday game at home against Shawnee Mission West.
Although the sky was quiet, it still felt like there was lightning all around. The Vikings, ranked ninth in the NSCAA/adidas national poll, were lightning-quick, made sharp passes and fired shots with damaging accuracy all game long.
When the storm was over, the Firebirds were left with a 5-1 loss.
"They're just relentless," Free State coach Jason Pendleton said. "There's a reason they're undefeated and ranked ninth in the nation. They make you pay when you make mistakes.
"You pull out two goal-keeping gaffes and a deflection, the score is closer, but they were clearly a much superior team to us."
Pendleton said he was proud of his team's effort, but the Firebirds simply were overmatched.
The Vikings (12-0-0) put pressure on Free State (6-5-2) from the very beginning and blended their speed with a precise short-passing game to control the tempo. It wasn't until the 17th minute, however, that West broke through with a goal. On a fluke play, Doug Stelle's shot deflected off a Free State defender and into the net for a 1-0 advantage.
Peter Huhnerkoch increased the Vikings' lead to 2-0 just three minutes later when he scored on a second effort after his first shot rebounded off Free State goalkeeper Aaron Williams.
"We need to get our marks a little bit tighter," Williams said, "and we need to have more intensity and want to go harder."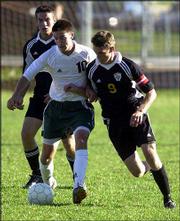 The Firebirds were more aggressive in the second half, but the added effort was met by more Viking pressure. Sophomore Aaron Ideus briefly cut Free State's deficit to 2-1 with his goal from about 20 yards out in the 45th minute, but West answered three minutes later when Anthony Dallen buried a shot just inside the near post.
Chris Katterhenry and Nick Gay added the Vikings' final goals in the 55th and 80th minute, but both were inconsequential because the Firebirds' opportunities to score were so limited.
"That's the fastest team we've played all year, by far," junior defender Sam Buhler said. "Most teams we play aren't faster than us, but they were just better athletes.
"(Monday) night we didn't play too well, but today we played hard, so there's always good that you can take from it when you play hard for 80 minutes."
Copyright 2018 The Lawrence Journal-World. All rights reserved. This material may not be published, broadcast, rewritten or redistributed. We strive to uphold our values for every story published.