Topeka — Four people were taken to the hospital and hundreds evacuated Tuesday from the Docking State Office Building because of a foul odor caused by chemically contaminated documents.
For hours, authorities weren't sure what caused the odor, raising the tensions of hundreds of people who were held in place outside the building at 915 SW Harrison St. while firefighters, police and eventually military personnel swarmed the area across the street from the Capitol.
Emergency response workers blocked traffic around Docking, which houses 2,050 state employees, and separated employees into groups of those thought to have been exposed to the odor and those who hadn't.
But shortly after 5 p.m., specialists with the Kansas Army and Air National Guard's Civil Support Team had determined the odor, which had come from an envelope or package that had been opened on the first floor of the building, was from a chemical compound commonly found in cleaning agents or pesticides. All the employees were allowed to go home.
How the contaminant got there and whether there was any malicious intent behind its presence were questions still under investigation, said Lt. John Eichkorn, a spokesman for the Kansas Highway Patrol.
The four women who had been taken to the hospital had all returned home.
Eichkorn said what could have been a tragedy turned into a real-life training exercise.
"Tonight we had cleaning solution, but in the future we don't know what we might have," he said.
The building was reopened for overnight shift workers.
The smell was noticed after mail was opened that contained motor vehicle title and registration documents sent to the Kansas Department of Revenue, authorities said. The documents are regularly mailed to the department from counties around the state.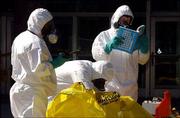 Several workers complained of a strong odor that was described as smelling like bug spray, or gasoline or motor vehicle exhaust, Eichkorn said.
One woman was taken to a hospital suffering watery eyes and a scratchy throat, officials said. She later was released. Three other women who complained of headaches and nausea also were taken to a hospital.
The smell followed the documents as they made their way from the first floor to the second floor.
Though the odor was first noticed in the morning, it wasn't until shortly after noon that authorities were summoned. Then the evacuation began.
Eichkorn said he didn't know why the building wasn't evacuated sooner, but that Department of Revenue officials also were going over their procedures.
Eichkorn said later tests showed the chemical that sickened the workers was ethyl acetoacetate, a compound often found in cleaning agents and herbicides.
Copyright 2018 The Lawrence Journal-World. All rights reserved. This material may not be published, broadcast, rewritten or redistributed. We strive to uphold our values for every story published.