Gobi Desert, China — China launched its first manned space mission early today, becoming the third country in history to send a person into orbit -- four decades after the former Soviet Union and the United States.
With a column of smoke, the Shenzhou 5 craft cut across a bright, azure northwest China sky at exactly 9 a.m. today (8 p.m. CDT Tuesday) and went into orbit 10 minutes later. The official Xinhua News Agency immediately confirmed the launch and said the astronaut was air force Lt. Col. Yang Liwei, 38.
"China's first manned spacecraft, the Shenzhou 5, blasted off," Xinhua said. China Central Television's Channel One, the government's flagship station, cut into its programming to announce the launch. The station later showed Shenzhou streaking into the sky and disappearing, its tracer billowing behind it.
Minutes after the launch, a CCTV announcer said that Shenzhou 5 and Yang had "entered orbit at 9:10." Xinhua said Yang was "reading a flight manual in the capsule of the Shenzhou-5 spacecraft and looked composed and at ease."
State media said the flight was expected to last 20 hours.
"I feel good," Yang radioed back from space after a half-hour in flight, according to Xinhua. He told his doctor that his blood pressure and other vital signs were "normal."
Then a bit of cool astronaut bravado: "See you tomorrow."
It was the culmination of a decade of efforts by China's military-linked manned space program -- and a patriotism-drenched moment for a communist government more concerned than ever about its profile on the world stage.
The launch makes China the third country to put a human into space on its own. The former Soviet Union sent Yuri Gagarin into orbit in April 1961; the United States launched Alan B. Shepard Jr. less than a month later. John Glenn became the first American in orbit in 1962.
Chinese President Hu Jintao, who watched the launch, called it "the glory of our great motherland."
The National Aeronautics and Space Administration applauded the launch.
"This launch is an important achievement in the history of human exploration," NASA Administrator Sean O'Keefe said in a statement. "NASA wishes China a continued safe human space flight program."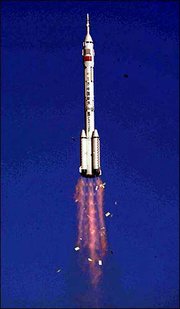 Copyright 2018 The Associated Press. All rights reserved. This material may not be published, broadcast, rewritten or redistributed. We strive to uphold our values for every story published.