Kansas City, Mo. — His broken leg looked so ugly, even the X-ray technician turned away.
That's when Jerome Woods thought his football career had been cut short by a freak accident in a meaningless exhibition game in what should have been the prime of his life.
"I thought, 'Man, this guy looks at injuries for a living, and he doesn't want to look at this one,'" said Woods, Kansas City's eight-year veteran free safety. "When they were taking me off the field, I'd heard our trainers say they'd never seen one like this. I knew it must be really, really bad."
It was. Woods' right leg was shattered during what appeared to be a routine play in the Chiefs' preseason game at Seattle Aug. 24, 2002.
When he fell, he felt a searing pain and heard a gun shot.
Only it was not a gun shot.
"It was the sound of the bone breaking," Woods said. "I couldn't see my leg. But a couple of my teammates ran up, and the look on their faces told me this was really pretty scary."
Doctors performed surgery in a Seattle hospital and inserted a slender rod that runs from just below the right knee cap to just above the ankle.
The rehabilitation was boring, painful and seemingly without end. He sat out the entire season, and his team missed him. The Chiefs finished 8-8 and ranked 32nd in total defense.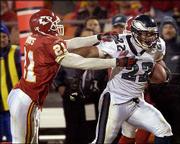 Now, finally, he's back. And instead of being over, his career seems to be reaching its greatest heights.
Twice during Kansas City's 6-0 start, a rejuvenated Woods has cut back upfield on the leg with the steel rod in it and returned interceptions for touchdowns, including a 79-yarder at Green Bay last week.
Then in overtime, he punched the ball out of Ahman Green's hand and into the arms of teammate Mike Maslowski, setting up Trent Green's game-winning TD pass to Eddie Kennison.
The scared guy who lay in a Seattle hospital bed 14 months ago thinking he might never play again is not only back -- he's back in a big way, a major reason the Chiefs stand as the only unbeaten team in the AFC.
"I think for the most part he's playing better football than I've seen him play," said Chiefs coach Dick Vermeil. "When something has been taken away from you, and you come back and are given the opportunity to do it again, you appreciate it more. His concentration has been outstanding.
"His physical skills are every bit as good or better."
A first-round pick out of Memphis in 1996, Woods was no stranger to pain. He played about half the 1998 season with a metal plate and six screws inserted into a broken right hand.
But there had never been this kind of pain.
"After surgery, the doctors were telling me I'd be all right. But I was still thinking it's over," he said.
Then one night he was lying in his hospital bed and the television was on overhead.
"I'll never forget it," Woods said. "I was watching some reverend on TV. He was preaching, and he spoke words that just seemed to stick in my head. He said, 'It's not over 'til God says it's over.'
"I laid there and thought about it and suddenly I said to myself, 'You know what? I'm not really finished yet.'"
When he reported to camp last summer, his leg and knee were frequently in pain because of the steel rod. Again, the anxiety grew.
"It was just a matter of getting used to the cutting and planting," he said. "The knee would swell up. But it's stopped and everything seems OK."
No, Woods does not worry about getting hurt again.
"If you go out thinking about getting hurt, that's when you get hurt," he said. "I try not to think about it. I try to go out and do what I've got to do, have fun and not worry about that."
He's also grateful for every extra minute he can squeeze out of his football career.
"Every time I get the opportunity to go out there, I'm going to have fun," he said. "Before that happened to me, I took a lot of stuff for granted. Now when I hit that field I'm not taking anything for granted."
Copyright 2018 The Associated Press. All rights reserved. This material may not be published, broadcast, rewritten or redistributed. We strive to uphold our values for every story published.