Silver linings don't really exist in clouds, you know. You just have to tough it out through overcast days.
So it is with the players on the defensive platoon of Kansas University's football team, who were so gloomy following their subpar performance Saturday at Colorado.
Well, cheer up, guys. You're not alone.
The Big 12 Conference is full of struggling defenses, and with good reason. The offenses are out of sight.
Big 12 defensive coordinators, unlike Boston Red Sox pitcher Pedro Martinez, don't have 72-year-old hotheads charging at them. Big 12 defenses are facing the cream of the nation's offensive youth.
At mid-season, half of the teams ranked in the top 10 in NCAA scoring are from the Big 12. That's right. Half. Astonishing. And four of those five are averaging more than 40 points a game. Oklahoma leads the nation at 47.7, Texas Tech is second at 46.8, Oklahoma State fifth at 40.5 and Texas sixth at 40.3. Meanwhile, upstart Kansas shares ninth at 38.5 ppg with USC.
Not too many years ago, college football teams would fatten up on nonconference foes, then when the league season began the scores would plummet as the competition improved. That's not happening this year.
While sitting in the Denver airport Sunday morning waiting for the flight back to Kansas City, I started adding numbers on the back of my notebook. I wished I'd had a calculator.
Let's see ... the fewest points scored by a winning team Saturday was 38 by Oklahoma State. Can you believe that? I'm sure they don't keep records on such things, but how many times do you suppose six league games were played in any conference -- the Pac-10, the Big Ten, the SEC or even the Colonial Athletic Association -- and the low-ball winner was 38?
Here are Saturday's winning scores in descending order: 73, 65, 52, 50, 41, 38. Too bad you can't play those numbers as hunch bets in the PowerBall. They're too high. You can use the losing scores, though. They were: 47, 34, 24, 21, 13, 10.
Looking at it another way, the average score of last weekend's half-dozen Big 12 football games was approximately 53-25.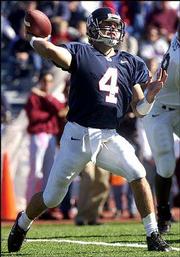 Under normal circumstances, you might consider 53-25 an anomaly, a fluke that happens once every time Penn State and Florida State hire a new football coach, but there is no evidence to indicate those high numbers won't be matched or surpassed this weekend.
Asked for his opinion about the Big 12 offensive explosion, Kansas coach Mark Mangino pointed to the wide-open attacks, saying: "I think there is starting to be that thought process in this conference -- spread the field out and put a little pressure on the defense."
OklahomaQuarterback: Jason WhitePassing stats: 129-187-1,762 yards, 20 TDsPoints: 180.2National rank: 1Team total offense: 470.2 yards per gameNational rank: 11Team scoring: 47.7 points per gameNational rank: 1KansasQuarterback: Bill WhittemorePassing stats: 98-157-1,631 yards, 13 TDsPoints: 174.5National rank: 2Team total offense: 483.8 yards per gameNational rank: 5Team scoring: 38.5 points per gameNational rank: tied for 9Texas TechQuarterback: B.J. SymonsPassing stats: 222-300-2,954 yards, 27 TDsPoints: 165.8National rank: 5Team total offense: 621.8 yards per gameNational rank: 1Team scoring: 46.8 points per gameNational rank: 2
A little pressure? For the most part, it's like forcing 90 pounds per square inch of air into a tire designed to hold 32 pounds. Eventually, the tire will explode.
Coincidentally, it is through the air where Big 12 offenses are hipping and hopping. The top three teams in NCAA pass efficiency this week are Oklahoma, Kansas and Texas Tech, in that order.
Five years ago, I never would have believed Arnold Schwarzenegger would be governor of California, Bob Knight would be head basketball coach at Texas Tech, and Oklahoma's football team would rather pass than run.
Three Oklahoma running backs -- Billy Vessels, Steve Owens and Billy Sims -- have won the Heisman Trophy, but no OU quarterback ever has finished won that award, though Josh Heupel was runner-up in 2001.
Yet if the Sooners' Jason White stays healthy and continues to have the highest passing rating in the country over the second half of the season, and if Oklahoma wins the national championship, White will win the Heisman, regardless of the stratospheric numbers Texas Tech QB B.J. Symons inflicts on the record books.
In Big 12 Conference football today, it's not whether you win or lose, it's whether you can outscore your basketball team.
Copyright 2018 The Lawrence Journal-World. All rights reserved. This material may not be published, broadcast, rewritten or redistributed. We strive to uphold our values for every story published.