Boston — No punches were thrown. No coaches were toppled on their noggins. There were no threats, no evil stares, no fussin' and no cussin'.
The Boston Red Sox and New York Yankees simply played a taut ballgame Monday night at Fenway Park, one that was dominated by pitching and the long ball.
The Red Sox got the better of both as they beat the Yankees, 3-2, in front of their home fans to knot the American League championship series at two games apiece heading into Game 5 this afternoon.
OK, there was a little gamesmanship. The Red Sox ordered a search of Yankees reliever Jeff Nelson when he was on the mound in the eighth inning. No Gaylord Perry paraphernalia was found, and the game went on.
Nelson had relieved lefty Felix Heredia, who had hit Todd Walker with a pitch and was quickly yanked by manager Joe Torre.
Other than that, the ill will that tarnished Game 3 Saturday lifted and blew out to sea.
"These are professional players," Red Sox manager Grady Little said. "They're pretty good turning the page and getting on with business. There's a lot at stake here. There's no time to look back."
Heroes? The Red Sox had a few.
Start with 37-year-old knuckleballer Tim Wakefield. Left off the roster when these two teams met in the 1999 AL championship series, Wakefield won his second game of this series.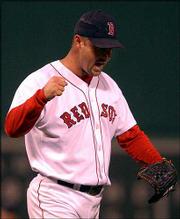 For the second time in six days, Wakefield outpitched Mike Mussina, a pitcher with a better resume and a bigger bank account.
Wakefield pitched into the eighth inning and allowed just one run. His flutterball produced eight strikeouts.
In 13 innings against the Yanks in this series, Wakefield, whose pitches could barely blacken an eye, has allowed just three runs.
"He's been a big-game pitcher for them," Torre said.
Given the ease with which he pitches, Wakefield could be used again in this series. He was too busy savoring this win to think about that, though.
"This was a huge win for us," he said. "Everyone is really excited. It's one of the most exciting games I've ever been a part of. We need to keep it going."
Walker continued his torrid postseason with his fifth homer, a fourth-inning shot off Mussina. Trot Nixon added one in the fifth, breaking a 1-1 tie.
The Red Sox also did the little things that win games. Jason Varitek, their regular catcher, did not start because Doug Mirabelli usually catches Wakefield.
But Varitek was used as a pinch-hitter in the seventh inning, and although he didn't get a hit, he came up big, legging out a potential double-play ball that enabled the Sox to score their third run. That run proved to be crucial because pinch-hitter Ruben Sierra homered off Scott Williamson with one out in the ninth to make it a one-run game.
Williamson then settled down and got the save. Mike Timlin shined by getting three outs with a man on base in the eighth.
Mussina, now 4-5 in 12 postseason starts, didn't pitch badly. He allowed just three runs in 6 2/3 innings and struck out 10.
The long ball has killed Mussina in this series. He allowed three in Game 1 and two more Monday night. The Sox have hit six homers in this series.
"That happens when you throw strikes and go after hitters," Torre said. "I remember Robin Roberts. I remember Don Sutton. They gave up some solo home runs."
The Red Sox led the majors with 238 homers in the regular season and have 14 in this postseason.
By winning Monday night, the Red Sox ensured that the series will return to Yankee Stadium for Game 6 Wednesday. If the Yanks are going to win their 39th AL championship, they will have to do it at home. If the Sox are going to the World Series for the first time since 1986, they will have to earn the trip by winning in the Bronx.
The Yanks lost Monday night mainly because they couldn't get to Wakefield early. They got the first two runners of the game on base, only to have Jason Giambi line out into a double play. Had Red Sox first baseman Kevin Millar not been playing Giambi perfectly, the Yanks might have put a big inning together.
The Yanks finally scored a run against Wakefield on three straight one-out hits in the fifth. In the same inning, they had runners on second and third with one out, and the bases loaded with two outs, but failed to deliver another run.
For the game, the Yanks were 1 for 9 with runners in scoring position.
"It was frustrating," Bernie Williams said. "We had a lot of opportunities, but we didn't get it done."
Copyright 2018 The Lawrence Journal-World. All rights reserved. This material may not be published, broadcast, rewritten or redistributed. We strive to uphold our values for every story published.