Tokyo — She stepped off the plane from North Korea shy and reclusive, keeping her comments short and simple in rusty Japanese. "Very good" was all Hitomi Soga could muster about being back in Japan for the first time in nearly a quarter-century.
A year later, however, Soga pours out her despair as she marks the homecoming's first anniversary this week with a soul-searching series of forlorn writings about the American husband and two daughters she left behind in Pyongyang.
"It is the second autumn since I have returned to Japan. I used to love fall, but I do not like fall this year. ... I hate being alone," Soga writes in an essay titled "The Second Autumn."
"If only I were a bird, I'd fly there to pick them up," she says in a poem called "Sky."
For Soga and four other kidnapped Japanese held hostage in North Korea and sent home last year, their Oct. 15 return date is a bittersweet reminder of newfound freedoms and the heartbreak of families still fractured across one of the Cold War's last frontiers.
Hopes for reunions with loved ones living incommunicado in North Korea are all but shattered by the global standoff over Pyongyang's nuclear weapons program. And growing frustration about the families' fates has fueled a backlash against the Tokyo government that won their freedom, but now stands accused of going soft.
"Basically, there has not been change in the situation," Ryutaro Hirata, a spokesman for the abductee support group, said Monday. "We want tough action. ... North Korea is not a country that responds to negotiations."
Angered at the lack of progress in bringing the families to Japan, hard-liners want Tokyo to level economic sanctions against Pyongyang, an act North Korea equates with war.
The plight of the five, all kidnapped in 1978 and now in their 40s, was all but forgotten until Prime Minister Junichiro Koizumi visited North Korea last autumn for an unprecedented summit with leader Kim Jong Il. Kim shocked Japan by admitting they had been abducted, apparently to train communist agents in Japanese language and customs.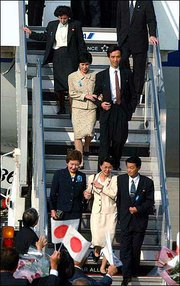 Tokyo secured their Oct. 15 homecoming, originally for just two weeks. But the group chose to stay, leading to a yearlong tug-of-war.
At its center are two married couples, with a total of five children in North Korea, and the fifth abductee, Soga, who is married to accused U.S. Army deserter Charles Robert Jenkins. He remains in Pyongyang along with their two teenage daughters.
The Tokyo government wants all the children and Jenkins returned; Pyongyang refuses, saying the abduction issue has been resolved.
Copyright 2018 The Associated Press. All rights reserved. This material may not be published, broadcast, rewritten or redistributed. We strive to uphold our values for every story published.