Tehran, Iran — The Nobel Peace Prize award for Iranian lawyer-activist Shirin Ebadi may do more than place her in the rarified company of history-shapers such as Nelson Mandela and Lech Walesa. It could hand Iranian reformers what they've been craving: a leader with the clout to rattle the entrenched theocracy.
Ebadi -- who also is Iran's first female judge -- was praised around the world as a courageous champion of political freedom after the Norwegian Nobel Committee honored her Friday for promoting peaceful and democratic solutions in the struggle for human rights.
The prize, announced Friday in Oslo, Norway, gave hope to the dispirited reformers challenging Iran's ruling clerics that the 56-year-old lawyer's newfound prominence may breathe life into their tired ranks.
"This prize doesn't belong to me only. It belongs to all people who work for human rights and democracy in Iran," Ebadi said in Paris, where she was attending a conference.
Ebadi, who was jailed for three weeks in 2000, has been a forceful advocate for women, children and those on the margins of society.
"As a lawyer, judge, lecturer, writer and activist, she has spoken out clearly and strongly in her country, Iran, far beyond its borders," the Nobel committee said in its citation.
'An international figure'
Reformers in Iran may now expect even more: a firebrand willing to directly battle the powerful theocracy in the model of other history-shaping Nobel laureates such as Nelson Mandela and Lech Walesa.
"She is an international figure now," said Isa Saharqis, a prominent reformer and editor of the monthly political journal, Aftab, or Sun. "The conservatives cannot close their eyes to this."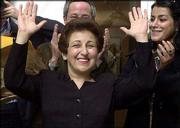 Iranian state media waited hours to report the Nobel committee's decision -- and then only as the last item on the radio news update.
It was not until late Friday that Iran issued an official statement, with government spokesman Abdollah Ramezanzadeh congratulating Ebadi for her prize.
"We hope more attention will be paid to the opinions of Mrs. Ebadi both inside and outside Iran more than before," he said.
"In the name of the government of the Islamic Republic of Iran, I congratulate Mrs. Ebadi and all Iranian Muslim women," Ramezanzadeh told The Associated Press.
"We are happy that a Muslim Iranian woman has behaved, using the capabilities of the country in the fields of defending human rights, especially the rights of children and women, in a way that is appreciated by the peace-loving bodies around the world."
Ramezanzadeh said the government was expected to send a top official to attend Ebadi's welcome ceremony in Tehran on Tuesday.
Family reaction
At Ebadi's home, her family watched updates on international broadcasts via a satellite dish -- technically illegal but recently tolerated as conservatives try to soften opposition.
"The reform movement is reborn," said Javad Tavassolian, her husband.
Ebadi's 79-year-old mother, Minu Yamini, said the Nobel announcement was just the third time she cried for her daughter. The first was her university graduation; the second was when she was jailed.
Ebadi, who is often sharply criticized by Iran's hard-liners and conservative clerics, was convicted in a closed trial three years ago of slandering government officials. She was given a suspended sentence following her three weeks in jail.
Call for free speech
At her news conference in Paris, Ebadi said Iran's most pressing human rights crisis was the lack of free speech, and she urged the government to immediately release prisoners jailed for expressing their opinions.
"There is no difference between Islam and human rights," said Ebadi, who was not wearing the Islamic head covering required for women in Iran.
"Therefore, the religious ones should also welcome this award," she added. "The prize means you can be a Muslim and at the same time have human rights."
Iran's reformist president, Mohammad Khatami, has often said the same in his vision of "Islamic democracy." But Khatami has been discredited in the eyes of many mainstream reformers for his unwillingness to press for rapid change. More radical activists are also disheartened by the failure of street protests, including a violent but short-lived confrontation with authorities in June.
Role model
Now, reformers appear ready to look for direction and unity from Ebadi, who is scheduled to return to Iran on Tuesday. One of the first tests could be February parliamentary elections, which many reformers have suggested they would shun as a show of frustration.
"Today is a happy day in Iranian history," said Saeed Pourazizi, a close ally of Khatami. "I don't hide my deep feelings of happiness."
The National Council of Resistance of Iran, a Paris-based group opposing the clerical establishment, called the Nobel award "an act against the religious fascism ruling Iran."
Although Iranian women serve in parliament and have far fewer limits than in other Middle Eastern nations such as Saudi Arabia, laws still impose some boundaries. An Iranian woman needs her husband's permission to work or travel abroad, and a man's court testimony is considered twice as important as that of a woman.
"The prize is an outcome of her relentless fight against inequality," said Azam Taleqani, leader of a women's rights group.
Ebadi served as Iran's first female judge in the waning years of the Western-backed monarchy, which was toppled by the Islamic Revolution of 1979, when she was forced to resign.
She turned her law office into a base for rights crusades and assaults on the establishment on issues such a persecution of dissidents and now-rare punishments such as stoning and flogging for social offenses.
She has taken cases dealing with domestic abuse and the rights of street children. Her writings have touched on rights for refugees, women and child laborers.
Decision lauded
Last year's Nobel Peace Prize winner, former President Jimmy Carter, called Ebadi's work "an inspiration to people in Iran and around the world."
U.N. Secretary-General Kofi Annan said the award underscores "the importance of expanding human rights throughout the world."
White House spokesman Scott McClellan called her "a lifetime champion of the cause of human dignity and democracy."
This year's prize is worth $1.3 million. Speculation on winners this year had centered on former Czech President Vaclav Havel and Pope John Paul II.
Ebadi is the third Muslim to win. Yasser Arafat took the prize in 1994, sharing it with then-Israeli Foreign Minister Shimon Peres and Prime Minister Yitzhak Rabin. In 1978, Egyptian President Anwar Sadat shared the award with Israeli Prime Minister Menachem Begin for jointly negotiating peace between the two countries. Rabin and Sadat were assassinated after winning their prizes.
The Nobel Peace Prize will be presented in Oslo on Dec. 10, the anniversary of Swedish industrialist Alfred Nobel's death. The other prizes will be given that day in the Swedish capital, Stockholm.
Copyright 2018 The Associated Press. All rights reserved. This material may not be published, broadcast, rewritten or redistributed. We strive to uphold our values for every story published.