Chicago — Mike Lowell sure wrecked this Wrigley Field party in a hurry.
With the old ballpark still shaking after Sammy Sosa's tremendous tying homer with two outs in the ninth inning, Lowell led off the 11th with a pinch-hit home run that sent the Florida Marlins over the Chicago Cubs, 9-8, Tuesday night in the NL championship series opener.
"It just kept going back and forth. Weird," Lowell said. "It was kind of like a boxing match."
In a game featuring seven homers, four triples and six doubles, Sosa's two-run shot was clearly the most dramatic.
He finally delivered a big postseason hit, and when the ball landed beyond the left-field wall, it turned a packed Waveland Avenue into Bedlam Boulevard.
"We didn't celebrate, for sure," Marlins manager Jack McKeon said. "I think there was a pause right there."
Too bad for the Cubs, Lowell's drive won it. He had help, too -- playoff standout Ivan Rodriguez homered and drove in five runs for Florida.
"That's playoff baseball," Cubs manager Dusty Baker said. "It was full of emotional twists. I'm sure everyone is emotionally exhausted.
"It's disheartening. We had an opportunity to win the game," he said. "Sad we came out on the short end, very sad."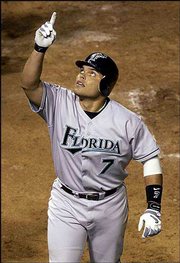 An All-Star third baseman, Lowell missed almost all of the final four weeks because of a broken left hand, and has played sparingly in the postseason. He was ready for his first pinch-hitting appearance this year, batting for winning pitcher Ugueth Urbina and launching a drive over the center-field wall off Mark Guthrie.
The sellout crowd of 39,567 started rocking early as Moises Alou homered in a four-run first. But the Marlins, who posted three comeback wins over San Francisco in the opening round, stormed back when Rodriguez, rookie Miguel Cabrera and Juan Encarnacion homered in a five-run third.
"These guys don't quit, and it was very evident today," McKeon said.
Braden Looper pitched the 11th for a save, giving the Marlins a win and a nice omen. The last 10 teams to win the NLCS opener have reached the World Series.
After avoiding Barry Bonds in the first round, McKeon said he would pitch to Sosa in this series.
And it was a good decision -- until Slammin' Sammy took his final swing.
Sosa tied it with a no-doubt drive, taking a signature hop after he connected off Urbina.
Sosa pointed to the sky as he touched home plate, as much in joy as in relief. The slugger with 539 career homers had been only 5-for-31 with zero homers and one RBI in postseason play, and his October slumps were starting to cloud his regular-season accomplishments.
As Sosa trotted to right field for the top of the 10th, his fans in the right-field bleachers bowed and he doffed his cap.
Game 2 of the best-of-seven series is tonight with Brad Penny pitching for Florida and Mark Prior going for the Cubs.
Rodriguez put the Marlins ahead 8-6 with yet another big postseason hit, a two-run single in the ninth. He delivered right after a disputed play that put the Cubs in jeopardy.
With runners on first and second and one out, Luis Castillo hit a slow grounder to second baseman Mark Grudzielanek. He fielded it cleanly, but fumbled it as he tried to tag Juan Pierre and start an inning-ending double play.
Pierre landed on the infield grass, and scampered to second as the bases became loaded. Baker argued umpire Fieldin Culbreth's call to no avail, and Rodriguez took advantage with a liner past Grudzielanek that broke a 6-all tie.
Alex Gonzalez, with a history of clutch homers for the Cubs, came through again with a two-out, two-run shot in the sixth off starter Josh Beckett. His opposite-field shot into the basket hanging off the right-field wall made it 6-all.
The Marlins had threatened to break it open in the top of the sixth. Leading 5-4, they started the inning with two singles, but had to settle for Jeff Conine's sacrifice fly off starter Carlos Zambrano.
Marlins shortstop Alex Gonzalez made the play of the game -- twice, actually -- to help keep it tied at 6.
Gonzalez snared Sosa's sharp one-hopper just before it skidded past him to end the seventh with a runner on third, then ranged deep into the hole to get a forceout in the eighth after a leadoff walk.
Down 4-0 in the third, Florida struck back in startling fashion -- three homers in a span of only 13 pitches. And they did it against a pitcher who rarely serves them up -- about one every 24 innings.
Pierre began the comeback with a one-out triple and Castillo walked. That brought up Rodriguez, the Marlins' first-round star, and brought out pitching coach Larry Rothschild to visit the excitable Zambrano, a 22-year-old righty who makes a habit of hopping around the mound.
Rothschild had barely made it back to the dugout when Rodriguez hit a liner into the left-center field bleachers for a three-run shot. An out later, Cabrera and Encarnacion connected for consecutive home runs.
Conine made the last out of the inning on a lazy, routine fly. The fans, in shock after the Marlins' power show, still gasped when the ball left the bat.
Copyright 2018 The Associated Press. All rights reserved. This material may not be published, broadcast, rewritten or redistributed. We strive to uphold our values for every story published.