After Kansas University's soccer team lost Friday to Texas, KU junior goalkeeper Meghan Miller said KU proved it could play with the best teams in the country, but it had to be consistent.
If that game was Exhibit A of KU's big-game ability, then the Jayhawks submitted Exhibit B Sunday in a 1-1, double-overtime tie with No. 3 Texas A&M; at SuperTarget Field.
Still, Miller and the Jayhawks (9-3-1 overall, 1-2-1 Big 12 Conference) are tired of picking up moral victories against formidable conference foes.
"We battled today," Miller said. "It was a battle for the entire team. Just gotta get that 'W.'"
It certainly was a battle, as both the Aggies (8-1-2, 1-0-2) and Jayhawks fought, clawed and scratched for every inch of grass.
"It was pretty physical," junior forward Monica Brothers said. "Both teams wanted it."
Brothers, who came off the bench in the 54th minute for re-injured sophomore forward Caroline Smith, served as a sparkplug for the Jayhawk offense and scored the team's only goal in the 57th minute.
"I was wide open, stayed composed and finished it," Brothers said.
The goal came as a result of a touch pass from junior forward Rachel Gilfillan. Once Brothers received the ball, she used a stutter-step move to send A&M; goalkeeper Kati Jo Spisak sprawling and then kicked the ball into the corner of the goal.
"She didn't get frazzled, which would have been an extremely easy thing to do," Kansas coach Mark Francis said.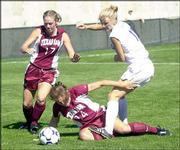 Brothers' shot only was the second goal allowed by the all-conference goalie in the Aggies' last six games.
The Aggies drew first blood with a goal in the 25th minute from Kirsten Strutz, who was able to get a turn-kick past Miller from about five feet out of the KU crease after getting a lightning-quick feed from Laura Probst on the left side.
After that, things got physical. In a scary moment minutes later, Smith and Spisak ran into each other going for a loose ball. Both players were fine and remained in the game after a five-minute break. About five minutes later, though, Smith limped to the far corner of the Aggies' side of the field, leading to Brothers' entry.
Numerous players from both clubs took tumbles, as Kansas didn't make anything easy for the generally taller and larger Aggie players.
"We maybe not be the biggest team, but we were hustling for everything," Miller said.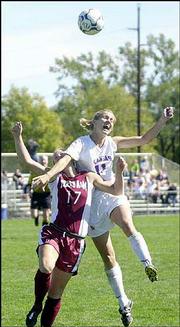 One of the players hustling was Brothers, who actually was given a red card after getting tangled and stepping on an Aggies defender. Brothers said it was an accident and was sorry that she let her team down. KU was forced to play with 10 players after the penalty.
Kansas outshot the Aggies, 6-4, and made Spisak make five saves compared to Miller's three.
"You tie the No. 3 team in the country, you'd think I'd be ecstatic," Francis said, "but I'm actually disappointed because I really felt we did enough to win the game."
Francis credited his team's improved play to better organization, going from a three-forward, three-midfielder, four-back set to a three-forward, four-midfielder, three-back set in the second half.
He said the switch allowed his team to widen its attack as well as defend better on the perimeter.
The Jayhawks will look to a break a three-game conference win drought Friday at Iowa State in Ames, Iowa.
Copyright 2018 The Lawrence Journal-World. All rights reserved. This material may not be published, broadcast, rewritten or redistributed. We strive to uphold our values for every story published.