Atlanta — Gus Frerotte erased a very bad memory in his return to the Georgia Dome.
A year ago, Frerotte started for the hapless Cincinnati Bengals, was benched after he failed to complete his first seven passes and watched the rest of a 30-3 loss from the bench.
Sunday, he got some payback against Atlanta. Starting his second straight game for Minnesota, Frerotte threw two touchdown passes and helped keep the Vikings unbeaten with a 39-26 victory over the Falcons.
"It was a rough day back when I was with the Bengals," Frerotte remembered. "I got hit hard a lot that day. Things weren't as positive there as they are here."
Moe Williams ran for a pair of second-half touchdowns as the Vikings (5-0) outscored Atlanta 27-6 over the final two quarters.
The Falcons (1-4) lost their fourth in a row, suffering the further indignity of being called for two penalties that resulted in safeties.
Doug Johnson was flagged for intentionally grounding the ball to avoid being tackled in the end zone. Then, left tackle Bob Whitfield capped a miserable game by literally tackling Lance Johnstone as he was closing in on a sack of Johnson in the end zone.
"I don't think they're as good as we are," Johnson said. "When you're playing at home, you're supposed to beat teams you're better than. It's very frustrating."
Johnson, who is starting in place of Michael Vick, hasn't been able to match the success of Minnesota's backup. The Vikings haven't missed a beat with Frerotte filling in for Daunte Culpepper, winning the last two games by a combined score of 74-33.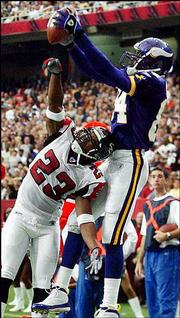 Frerotte completed 14 of 24 passes for 239 yards against the Falcons, including two throws that picked up more than 50 yards.
"I grew up in Pittsburgh in the '70s, with all that 'We Are Family' stuff with the Pirates," Frerotte said. "It's kind of like that here."
It wasn't that way in Cincinnati. He never threw another pass for the Bengals after his woeful day in Atlanta.
Frerotte wound up in Minnesota as a backup, only to get pressed into duty when Culpepper broke several small bones in his back Sept. 21 against Detroit.
For a half, at least, it looked as if Atlanta coach Dan Reeves finally would get his 200th victory. The Falcons led 20-12 at halftime, Johnson was playing well at quarterback, and the defense was containing the high-powered Vikings.
It didn't last. Reeves fell to 0-for-4 in his pursuit of No. 200.
Frerotte connected with Randy Moss on a 17-yard touchdown, and the Vikings made a two-point conversion to tie it at 20. Moss' catch was a thing of beauty -- he leaped over cornerback Kevin Mathis to grab the ball, then somehow got both feet down before tumbling out of bounds.
Moss also had a 32-yard touchdown in the second quarter, beating Mathis on a post route. The second TD came after Moss was called for offensive pass interference against cornerback Ray Buchanan, wiping out a touchdown.
"I was kind of mad," Moss said. "Each week, I get pass interferences against me, and they don't call it. I was just trying to get my hands up to make a play, and he was bumping me and pushing me. I was just trying to get the guy's hands off me."
Minnesota went ahead for good with 2:46 left in the third quarter. Frerotte's 51-yard pass to Kelly Campbell pushed the Vikings deep into Atlanta territory, and Williams scored on an 11-yard run.
Bears 24, Raiders 21
Chicago -- Paul Edinger kicked a 48-yard field goal on the final play as the Bears rallied from an 18-3 halftime to claim their first win. The Raiders (2-3) got five field goals from Sebastian Janikowski, but he also missed the first extra point of his career and had a 47-yard attempt blocked in the second half.
Bills 22, Bengals 16, OT
Orchard Park, N.Y. -- Travis Henry's two-yard plunge capped a five-play drive 4:53 into the extra period, lifting the Bills. With Buffalo trailing 16-13, Drew Bledsoe marched the Bills 59 yards on 13 plays to set up Rian Lindell's 29-yard field goal with 28 seconds remaining in regulation. Bledsoe wasted no time in securing the win, taking the Bills 57 yards after the Bengals (1-4) opened overtime going three-and-out.
Patriots 38, Titans 30
Foxboro, Mass. -- Mike Cloud returned from a four-game suspension for a substance-abuse violation and ran for a 15-yard TD with 3:14 left to give the Patriots the lead, then Ty Law clinched the win with a 65-yard interception return for a score.
Cowboys 24, Cardinals 7
Irving, Texas -- Emmitt Smith sprained his left shoulder against his former teammates in the first half, then watched as the Cowboys won their third straight for the first time since 1999. Quincy Carter threw for 277 yards and two TDs and the defense had two safeties in a four-play span in the third quarter as Bill Parcells won his first home game as coach of the Cowboys (3-1).
Dolphins 23, Giants 10
East Rutherford, N.J. -- Olindo Mare kicked three field goals, and receiver James McKnight scored on a 68-yard reverse as the Dolphins took advantage of four New York turnovers and an injury to kicker Matt Bryant to win. Ricky Williams, who was held in check until a game-clinching fourth-quarter drive, iced the third straight win for Miami (3-1) with a one-yard touchdown run. He finished with 22 carries for 39 yards, his worst game as a Dolphin.
Packers 35, Seahawks 13
Green Bay, Wis. -- Brett Favre guided Green Bay on five consecutive touchdown drives to help the Packers beat their former coach, Mike Holmgren. That was sweet revenge for Favre, who self-destructed in Holmgren's first return to Lambeau Field, when he committed six turnovers in a 27-7 loss to the Seahawks in 1999.
Panthers 19, Saints 13
Charlotte, N.C. -- Relying on a steady dose of Stephen Davis, who ran for 159 yards and a touchdown, the Panthers moved to 4-0 for the first time. Rod Smart had the flashiest play for the Panthers, returning a kickoff 100 yards for a touchdown. John Kasay added field goals of 49 and 23 yards.
49ers 24, Lions 17
San Francisco -- Terrell Owens caught five passes for 79 yards and a touchdown as the San Francisco 49ers spoiled Steve Mariucci's homecoming. Jeff Garcia completed 15 of 27 passes for 192 yards and rushed for another score for the 49ers (2-3), who snapped a three-game losing streak.
Jaguars 27, Chargers 21
Jacksonville, Fla. -- Byron Leftwich threw like a veteran, and returning receiver Jimmy Smith played as though he hadn't missed a day as the Jaguars won their first game. Smith, returning from a four-game suspension for violating the league's substance-abuse policy, caught eight passes for 137 yards.
Eagles 27, Redskins 25
Philadelphia -- Defensive end N.D. Kalu returned an interception 15 yards for the go-ahead TD, and Brian Westbrook had a 19-yard TD run for the Eagles. Washington (3-2) had a chance to tie it, but Patrick Ramsey overthrew Laveranues Coles on a two-point conversion with 13 seconds left.
Browns 33, Steelers 13
Pittsburgh -- Tim Couch threw for two touchdowns and ran for another before halftime in his second start since last season, and the Browns took advantage of three Tommy Maddox turnovers to end a six-game losing streak to their biggest rivals.
Copyright 2018 The Associated Press. All rights reserved. This material may not be published, broadcast, rewritten or redistributed. We strive to uphold our values for every story published.