Kansas University's soccer team lost, 1-0, Friday to Texas at SuperTarget Field, but it wasn't goalkeeper Meghan Miller's fault.
The Seattle junior had nine official saves, but that doesn't do justice to the times she deflected or caught rocket shots from Longhorns. The Jayhawks suffered their second consecutive Big 12 Conference loss.
"It's tough," Miller said. "I'm actually pleased the way we played. We battled for 90 minutes."
Texas junior forward Kelly McDonald scored in the 82nd minute with an unassisted 30-foot shot.
KU (9-3 overall, 1-2 Big 12) had had its two best scoring chances of the game minutes earlier when a shot by sophomore forward Caroline Smith bounced off the crossbar; Smith also had a header sail just wide.
"This is the type of game where one big play changes the game," Smith said.
After the UT goal, the Jayhawks missed several chances in the final eight minutes to tie.
"We showed a lot of character because we could have tanked, but we didn't," Miller said. "It still sucks losing, but I think we proved today that we can play with the best teams in the country. We just have to be consistent."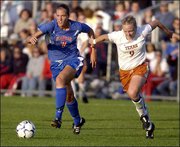 Texas improved to 6-5 on the year and 1-1 in the Big 12, but four of the school's five losses came to top-20 teams. The Longhorns were tapped No. 5 in the preseason national rankings.
"It was a good battle," Texas coach Chris Petrucelli said. "It's what we expected. It's a difficult environment to play in. We're happy to get out of here with a win."
Texas had 10 shots on goal, eight of which came in the second half. KU managed just two.
"I told these guys we're not going to play anybody better," Kansas coach Mark Francis said. "We played very well. It could have gone either way. It was a very different feeling than the loss on Sunday."
Sunday, the Jayhawks lost to Texas Tech, 3-2, but Francis said his team played better Friday.
One upside for KU was that three injured players -- Smith, junior midfielder Gabriela Quiggle and senior defender Maggie Mason -- each played.
"That's a positive," Francis said. "Everybody was available."
The Jayhawks will need everybody when No. 3 Texas A&M; visits SuperTarget Field at noon Sunday.
Copyright 2017 The Lawrence Journal-World. All rights reserved. This material may not be published, broadcast, rewritten or redistributed. We strive to uphold our values for every story published.