Steve and Sharon Batten of Lawrence, like millions of American families, have to make do without health insurance.
Steve is a self-employed carpenter, and Sharon has muscular dystrophy, two factors that make getting a health insurance policy a difficult and very expensive proposition. So the couple and their five children, ages 19 to 25, manage as best they can.
One thing the Battens have working in their favor is Heartland Medical Clinic in the lower level of Heartland Community Church, 619 Vt. The clinic, established in October 1999, is a general family practice offering free or discounted medical care, including prescription medication, to those who lack health insurance.
The clinic's been a big support for the Battens. Steve and Sharon, as well as four of their five children, have gone there for medical care.
"They have such a great heart for people, so much compassion. I appreciate that they had so much respect for everyone they were working with. No one looks down on us because we don't have health insurance," Sharon says.
Now Sharon serves on the clinic's nine-member board of directors.
"We've been without health insurance since the mid-'80s, so I know what it's like. Being a Christian, I felt like I can give them some help, since I have been on the other side as a patient."
It's from that perspective that Sharon has watched the clinic steadily grow from having one volunteer doctor and registered nurse on staff, and being open one day a week, to where it is now.
Today the clinic, which is a ministry of Heartland Church, provides about $150,000 annually in medical care and prescription drugs to underserved and uninsured people in a five-county area.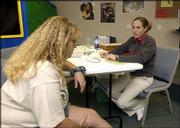 The clinic maintains active charts on 1,110 patients. Though only open 121/2 hours each week, the clinic has logged 1,200 patient visits so far this year.
"We're busting through the walls. There's no place else to go," says Amy Berthold, a licensed dental hygienist who serves as clinic administrator.
"We've already expanded into all three of our Sunday school rooms, and we're dividing off the common area."
The clinic will celebrate its fourth anniversary Friday.
Bigger quarters, expanded service
The lack of space at the clinic is a situation soon to be remedied. Within six months, the medical staff, administrators and 35 volunteers are planning to move the clinic from its present location to a separate, 5,000-square-foot space downtown.
The relocated clinic would offer expanded medical services, be open 30 to 40 hours per week and start to see patients who have health insurance, too.
Heartland Medical Clinic, which is in the lower level of Heartland Community Church, 619 Vt., provides free or discounted medical treatment, spiritual encouragement and social-agency referrals to anyone who does not have health insurance.The clinic's hours of operation are: 4 p.m. to 7:30 p.m. Monday; 9 a.m. to 11 a.m., and 1:30 p.m. to 4 p.m. Tuesday; 9 a.m. to 11 a.m. Wednesday; 9 a.m. to 11:30 a.m. Thursday.The clinic's telephone number is 841-7297.The clinic, which accepts financial contributions, time and medical equipment (new or used), enjoys broad support among Lawrence congregations.Among those who have helped support the clinic are: Victory Bible Church; Mustard Seed Christian Fellowship; Lawrence Wesleyan Church; Morning Star Christian Church; Clinton Parkway Assembly of God; and First Christian Church.
The reason it would begin to take paying patients is to be able to afford new equipment and services, such as X-ray machines, a full lab, counseling therapy and to help compensate the medical staff for the clinic's expanded hours.
By accepting paying patients, the nonprofit clinic could also afford to serve even more of its targeted patients: those who don't have health insurance.
Though the clinic will move and grow, it plans to remain true to its character as a Christian-based, nonprofit clinic focusing on the uninsured.
The Rev. Paul Gray, Heartland's senior pastor and the clinic's executive director, is looking forward to larger quarters.
"We'll have a very nice, state-of-the-art and aesthetically pleasing doctor's office that will make a big difference in the self esteem of homeless and uninsured people," he says.
The new location will represent a step forward in how the clinic looks and is able to serve its patients.
"We don't want them to feel like they're coming to a second-rate office or receiving a lower level of care, because they're not," says Dennis Sale, a doctor of osteopathy who founded the clinic.
The clinic presently has a staff of nine people, including two doctors of osteopathy, one internist, one general practice physician, one naturopathic doctor, a registered nurse and a dental hygienist.
Gray and Rebecca Thesman, communications director, round out the staff. They have non-medical backgrounds based in ministry.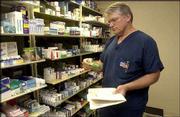 Dr. Gillian Stephens, a general practitioner, and Pat Mayo, a registered nurse, are full-time staff members and receive compensation for their work. The rest of the medical staff volunteers its time and services.
The clinic is supported by fund-raising, contributions from individuals and grants.
'Wonderful thank you'
Gray has been surprised by the growth the clinic has experienced in the past four years.
"I'm really grateful and excited. It's so obvious to me that God is doing this, because it never entered my mind to do it. It's not something I planned," he says.
"This has been the most exciting thing that's happened in the history of Heartland Church, what God is doing through the clinic. We just see something new every day."
Sale has also received a lot of satisfaction in seeing the clinic he founded grow to its present state.
"The thing that warms my heart the most is that people continue to come back. They trust us. It's also real gratifying when someone doesn't have a job, or is uninsured, and they'll give us $5," he says.
"And you know they don't have that money to spend. That's a wonderful thank you."
Sharon Batten is particularly impressed by the clinic's service to people who lack not only health insurance, but also permanent shelter.
"That to me is a great outreach, because those people need some help. They just need people to care and to not judge them," she says.
Copyright 2018 The Lawrence Journal-World. All rights reserved. This material may not be published, broadcast, rewritten or redistributed. We strive to uphold our values for every story published.