New York — Jason Giambi stood at first base and soaked it all in. One swing turned all those fickle fans in his favor and got Yankee Stadium rocking again.
Giambi hit a two-run single, Andy Pettitte pitched another gem under pressure, and New York beat Minnesota, 4-1, Thursday night to even the best-of-five AL playoff series at a game apiece.
"I guess I went from zero to hero real quick," Giambi said. "That's the great thing about this game."
After a sloppy loss during the day in Game 1, the Yankees finally put their fans in a frenzy with a three-run seventh inning that snapped a 1-all tie. Alfonso Soriano hit a go-ahead single off LaTroy Hawkins, and this time it was the Twins who made defensive errors that opened the door.
"Something about a night game here at Yankee Stadium, almost like it just comes alive out there," Pettitte said. "I don't get too emotional, usually don't show too much emotion, but I was pretty emotional out there tonight. ... It was a fun game."
Yankees manager Joe Torre took no chances, bringing in Mariano Rivera to pitch the final two innings for a save.
"When you take Andy Pettitte out with the kind of courage he showed tonight, it would have been tough to replace him with anybody but Rivera. ... I don't think I can trust anybody more than I trust Andy," Torre said.
The victory came on the 25th anniversary of one of the Yankees' most famous wins -- the day Bucky Dent homered at Fenway Park to help beat Boston in a one-game playoff for the AL East title.
This win gave the Yankees the momentum heading into Game 3, but Minnesota has its home-field magic -- the Twins are 13-3 all-time in postseason games at the noisy Metrodome.
"You don't leave with a good feeling," Minnesota manager Ron Gardenhire said. "We won a ballgame here, but, sure, we had a good chance again to win here tonight."
Roger Clemens pitches Saturday afternoon for New York in what could be the final start of his Hall of Fame career. Kyle Lohse goes for Minnesota.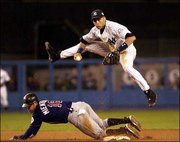 Copyright 2018 The Associated Press. All rights reserved. This material may not be published, broadcast, rewritten or redistributed. We strive to uphold our values for every story published.