San Diego — Confronted with fresh allegations that he groped women, Arnold Schwarzenegger apologized Thursday for having "behaved badly sometimes" and pleaded with voters just days before California's recall election for the chance to show that he has changed.
The admission came just as the action hero appeared to be picking up steam as the front-runner to replace Gov. Gray Davis in Tuesday's historic election.
It was followed hours later by a report on ABC News that Schwarzenegger told an interviewer during the filming of the bodybuilding documentary "Pumping Iron" in 1975 he admired Adolf Hitler.
Schwarzenegger, with wife Maria Shriver at his side, told a late-night news conference at Los Angeles' Century Plaza Hotel that he didn't recall making the reported Hitler remarks.
"I don't remember any of those comments because I always despise everything that Hitler stood for," Schwarzenegger said, calling Hitler a "disgusting villain."
Asked about the new allegations of groping against her husband, Shriver referred to his apology earlier in the day in San Diego.
"As I say to my children it always takes great courage to stand before anybody and apologize, and I think that's what Arnold did today," Shriver said.
Some political analysts predicted serious harm to Schwarzenegger, whose standing among women voters was poor even before the latest furor.
Schwarzenegger's apology came at a campaign event kicking off the final leg of his campaign. Taking the stage to chants of "Arnold, Arnold," he immediately addressed the issue.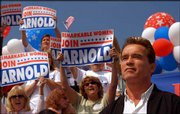 "I have behaved badly sometimes. Yes, it is true that I was on rowdy movie sets and I have done things that were not right, which I thought then was playful but now I recognize that I offended people," he said.
From this point on, Schwarzenegger said, he will prove he is a "champion for the women." As he made that pledge, the crowd interrupted him with cheers.
The admission came hours after the Los Angeles Times reported the accusations of six women who accused Schwarzenegger of sexually harassing and groping them in the past three decades.
Three of the women told the Times that Schwarzenegger groped their breasts. One said he tried to take her bathing suit off in a hotel elevator, and another said he put his hand up her skirt and grabbed her buttocks. Still another said he pulled her on his lap and asked if she ever had a particular sex act performed on her.
Copyright 2018 The Associated Press. All rights reserved. This material may not be published, broadcast, rewritten or redistributed. We strive to uphold our values for every story published.