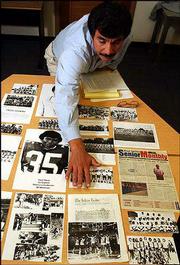 Some of the nation's top American Indian athletes and coaches will be in Lawrence on Saturday for the opening of an exhibit at Haskell Indian Nations University's Cultural Center and Museum.
"We want to remind our young people of their sports history," said Michael Tosee, an instructor in Haskell's American Indian studies department. "It's a history that includes many athletes -- not just the ones they probably already know about, like (Olympians) Billy Mills and Jim Thorpe."
Tosee is coordinating an awards ceremony to coincide with the exhibit's opening. Featured guests include:
l Coach Jerry Tuckwin, whose Haskell cross country teams reached the junior college nationals 11 times between 1970 and 1986, fielding 30 all-Americans.
l Cecil Harry, a junior college All-American linebacker in 1970-72 at Haskell.
l Coach H.E. Llewellyn, whose tenure at Haskell, 1957-1984, included coaching football, track and baseball teams on the high school and junior college levels. His high school football team won the Jayhawk League title in 1959.
l Scotty Harjo, a decorated Korean War veteran and former Golden Gloves boxer who coached several Haskell teams between 1957 and 1994. He ran Haskell's fast-pitch softball team for 40 years.
l Harold, Ronald and Donald Murphy -- also known as "The Triplets" -- who played basketball and baseball in 1974-76 at Haskell.
"The Murphys were some of the best all-around athletes ever to attend Haskell," Tosee said.
Harjo, Llewellyn and Tuckwin live in Lawrence. Harry and the Murphy brothers live in Oklahoma.
Several members of the Seminole Tribe of Florida's Sports Hall of Fame also are expected to take part in the ceremony, which begins at 10 a.m. at Stidham Union on the Haskell campus.
At 2 p.m. Haskell's football team will play Southwestern Assemblies of God in the university's fall homecoming game at Haskell Stadium. The volleyball team takes on St. Gregory's University at 7 p.m. in the Coffin Complex.
"This is going to be great," said Harjo, 75. "I know every one of the people that are going to be honored and I can say that every one of them gave Haskell everything they had. If they let me, I can tell stories on every one of them."
The ceremony's agenda includes 20 minutes for storytelling. Stories probably will be told about Harjo as well.
"Back when Mr. Harjo ran Haskell's softball team, they played in softball tournaments all over Indian country," said George Tiger, a member of the Haskell Board of Regents. "They were everybody's favorite team because he went out and recruited players from all the small Indian communities -- to play softball and to go to Haskell.
"Everybody in Indian country knows Mr. Harjo," Tiger said. "They call him Mr. Haskell."
Copyright 2018 The Lawrence Journal-World. All rights reserved. This material may not be published, broadcast, rewritten or redistributed. We strive to uphold our values for every story published.