Miami — The first two games of the playoffs have shown San Francisco how to beat Florida: Keep Juan Pierre and Luis Castillo off base.
It's easier said than done.
San Francisco succeeded in Game 1, when Pierre and Castillo went a combined 0-for-8 as Jason Schmidt shut out Florida, 2-0.
But in Game 2, the Marlins' pesky little rally-starters came to life. Pierre and Castillo totaled five hits, and the Marlins won, 9-5, to earn the split they wanted at Pac Bell Park.
Now the series moves today to Miami, where Pierre, Castillo and the Marlins' largest crowd since Game 7 of the 1997 World Series await.
More than 58,000 fans are expected in support of a team that a month ago was drawing barely 10,000. The roar from the burgeoning bandwagon is likely to be deafening when crowd favorite Pierre steps into the batter's box in the first inning against Kirk Rueter, with Castillo on deck.
"The 1-2 guys have been the catalysts for our team," Marlins manager Jack McKeon said. "They get on base and raise havoc. They're very important to our offense. Just look at our box scores."
In Wednesday's come-from-behind victory, Pierre went 4-for-5 with three runs, three RBIs and a stolen base. Castillo added a single and an RBI.
The duo jump-started an offense that totaled 15 hits and pressured the Giants into three defensive lapses.
"If they get on, we're going to score some runs," McKeon said. "If they don't get on, we're in trouble."
It has been that way all season, and usually Pierre and Castillo get on. Center fielder Pierre hit .305, scored 100 runs and led the major leagues with 65 steals. Second baseman Castillo batted .314, scored 99 runs and had 21 steals.
"The speed they have -- you're lucky to have one guy like that on a team," said Mark Redman, Florida's starting pitcher today. "We're fortunate to have two."
McKeon said he'd decide today whether to start All-Star third baseman Mike Lowell, who hasn't batted since his left hand was broken by a pitch Aug. 30.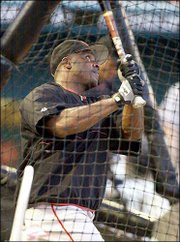 Copyright 2018 The Associated Press. All rights reserved. This material may not be published, broadcast, rewritten or redistributed. We strive to uphold our values for every story published.