Sanoma, Calif. — General Motors Corp. calls it the Hy-wire: a car that puts fuel-cell technology in a futuristic body. It lacks foot pedals and a traditional steering wheel.
It scoots along on a skateboardlike chassis containing everything that runs the car, including hydrogen fuel cells that power an electric motor. The driver controls the Hy-wire by twisting handgrips to accelerate, squeezing them to brake and tilting them to steer.
"This is a reinvention of the automobile," said Scott Fosgard, GM's communications director for advanced technology vehicles.
The Hy-wire was one of the stars of a recent show where automakers displayed 100 vehicles powered by electric motors, hybrid engines, fuel cells and other eco-friendly technologies aimed at reducing pollution and boosting fuel economy.
Automakers say fuel cells could reach the market within a decade and eliminate today's internal-combustion engine as a source of air pollution.
"The industry is moving toward cleaner, lower-emission vehicles. Many alternatives for the consumer will be available as the industry continues its progress," said Ron Musgnug, project leader for the event, known as Challenge Bibendum -- named after the puffy mascot of sponsor Michelin.
But environmentalists say the auto show, complete with test-drive opportunities at Sonoma's Infineon Raceway just north of San Francisco, clouds the pollution debate.
Although encouraged by the long-term potential of these next-generation technologies, they complain that auto makers keep opposing higher fuel-efficiency standards -- and keep selling gas-guzzling SUVs.
"The auto companies are using these long-term solutions like hydrogen fuel cells to distract us from these near-term options," said Roland Hwang, a vehicle technology expert at the Natural Resources Defense Council.
"If the auto industry was serious about reducing our petroleum dependency, it would support raising fuel-efficiency standards at the national level," Hwang added.
Carmakers are investing billions to develop more eco-friendly vehicles to meet stricter standards on auto emissions and fuel efficiency. But so far only hybrid cars, which combine battery power and the internal-combustion engine, have reached the market.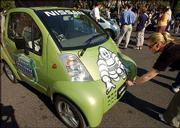 Copyright 2018 The Associated Press. All rights reserved. This material may not be published, broadcast, rewritten or redistributed. We strive to uphold our values for every story published.