The mountain lion captured in urban Omaha is more likely to go to a zoo than to be released back into the wild, a state Game and Parks Commission official said.
The state agency will decide with the help of the Henry Doorly Zoo what to do with the large cat captured Wednesday near one of Omaha's busiest intersections, 114th Street and West Dodge Road.
The game and parks commission does not release mountain lions in Nebraska, said Mace Hack, the commission's head of wildlife research.
The commission is looking into releasing the lion to another state, Hack said.
But states that would be good homes for mountain lions -- such as Colorado and Wyoming -- already have plenty of them, Hack said.
There is also a concern that if the mountain lion wandered into an urban area once, he might do it again.
"This isn't such a great candidate. ... for release even if other states were willing to take it," Hack said.
Hack said there were no good locations in Nebraska -- away from both people and livestock -- where it would be safe to release a mountain lion.
"People don't want it basically," he said. "Nor do we want to put people at risk, nor the animal at risk. We have never released mountain lions, and we probably never will."
The mountain lion was recovering Thursday from surgery at the Henry Doorly Zoo. Zoo Director Lee Simmons said three shotgun pellets were removed from the animal's hip and thigh.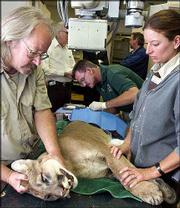 Soon after Simmons shot the animal with a tranquilizer dart, a police officer shot the animal with his shotgun when the cat lunged at him. The mountain lion was captured minutes later after the tranquilizer took effect.
Because the animal's claws weren't worn from walking on concrete and it was so aggressive, Simmons said he was certain the cat was wild and had never been a pet.
Simmons said the lion would need to recover from his injuries before a final decision is made about his future.
No pellets remain in the lion, but it is suffering nerve damage in the leg, Simmons said. He said a pellet possibly could have nicked a nerve.
The male mountain lion weighed in Thursday at 108 pounds -- heavier than previously thought. It is almost 7 feet long from his nose to the tip of his tail, and 2.5 feet tall, Simmons said.
Simmons said he believed the cat wandered into the area along the Platte River and then up the Big Papillion Creek, which runs through Omaha near where the cat was found.
It probably fed on rabbits and dogs, and would have been a threat to small children, he said.
It was the first confirmed sighting of a mountain lion in the eastern third of the state, according to the Game and Parks Commission.
Mountain lions, also called cougars or pumas, had not turned up in Nebraska for more than a century until a deer hunter in the Pine Ridge area killed one in 1991.
Since then, there have been 10 confirmed sightings in western and central Nebraska.
Copyright 2018 The Associated Press. All rights reserved. This material may not be published, broadcast, rewritten or redistributed. We strive to uphold our values for every story published.