Vatican City — One of Europe's top cardinals said Thursday that Pope John Paul II was nearing "the last days and months of his life," the first ranking prelate to say the 83-year-old pontiff is dying.
With John Paul visibly weaker in recent weeks, concern over his health has been growing. Austrian Cardinal Christoph Schoenborn was the second leading prelate this week to express alarm over the pope's health.
"The entire world is experiencing a pope who is sick, who is disabled and who is dying -- I don't know how near death he is -- who is approaching the last days and months of his life," Schoenborn, who is the archbishop of Vienna, told Austrian state broadcaster ORF.
Schoenborn is considered a possible candidate for the papacy. His spokesman, Erich Leitenberger, later told The Associated Press the comments were "to be interpreted philosophically."
Since the mid-1990s, John Paul has been battling Parkinson's disease, a progressive neurological disorder, as well as crippling knee and hip ailments.
The Vatican, which generally refrains from commenting on the pope's health, declined to respond to the Austrian cardinal's remarks.
However, two Vatican cardinals and one of John Paul's closest aides -- the secretary who joined him from Poland when he assumed the papacy 25 years ago -- sought to minimize concern about the pontiff's well-being.
Monsignor Stanislaw Dziwisz, promoted Monday to archbishop by John Paul as a sign of gratitude, took the unusual step of talking to reporters about the pope's health as the pontiff met with the president of Lithuania.
Asked about the state of the pope's health, Dziwisz referred to comments this week attributed by a German magazine to Cardinal Joseph Ratzinger that John Paul was "in a bad way" and that the faithful should pray for him.
"Cardinal Ratzinger was crying yesterday, explaining that he never gave an interview but merely answered someone he met on the street, saying, 'If the pope is sick, pray for him,"' Dziwisz said.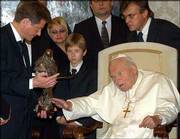 Copyright 2018 The Associated Press. All rights reserved. This material may not be published, broadcast, rewritten or redistributed. We strive to uphold our values for every story published.