San Francisco — Juan Pierre is sure everyone ruled out his wild-card Florida Marlins in their playoff matchup with the San Francisco Giants.
And suddenly, somehow, the Marlins now have the momentum heading home.
Juan Encarnacion homered and Pierre wound up with a bases-loaded double on a misplay by Jose Cruz Jr. in a decisive three-run sixth as Florida rallied to beat sloppy San Francisco, 9-5, Wednesday, to even the series at one game each.
"Getting down 4-1, I think they were confident they would get us again," said Pierre, who had four hits and drove in three runs. "We put the pressure on them and kept the pressure on."
Pierre said before this series started that the Giants hadn't yet seen the Marlins at their best. San Francisco won five of six meetings during the regular season.
Pierre led a 15-hit effort, a day after Florida was held to just three. The Marlins overcame a three-run deficit in the fifth.
"A lot of people doubted this team and thought we couldn't win," said Lenny Harris, who delivered a key
pinch-hit single in the sixth. "We showed them a little something -- that we're not afraid of them."
The Marlins got the split they so desperately needed at Pacific Bell Park, and did it by getting away from the small ball that sent them on this improbable playoff journey.
After an energized Barry Bonds helped the Giants take an early lead, Sidney Ponson couldn't hold it. Pierre and the Marlins sent the best-of-five series back to Florida at one apiece.
Game 3 is Friday in Miami. Kirk Rueter pitches for San Francisco against Mark Redman.
Carl Pavano, the winning pitcher when Florida clinched the wild card, earned another important victory by getting two outs.
"It was just a weird day," Giants first baseman J.T. Snow said. "They are a good team. There's a reason they are here. When you get to this point in the year, there's no quit in anybody."
Most of all, Florida kept Bonds from doing major damage. Rookie Dontrelle Willis, the Marlins' probable Game 4 starter, did his part by relieving in the eighth and retiring Bonds on a foul out.
On a day the 39-year-old Bonds showed unusual energy in left field and on the bases, the Marlins again made sure the slugger wouldn't beat them at the plate. After Bonds doubled to drive in a run in the first, he was walked twice.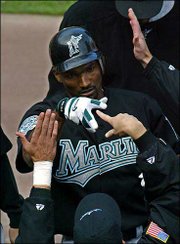 Bonds made a sliding catch in left field and hustled home from first base on Edgardo Alfonzo's double, nearly catching teammate Rich Aurilia, who had gone back to second to tag up in case the ball was caught.
But Bonds was about the only one who looked like himself.
"They played better. They won. That's the end of it. Go away," Bonds said.
On Pierre's fly ball in the sixth, Cruz slipped where the grass meets the warning track and the ball flew over him.
Cruz said it was the worst day he'd experienced in this tricky right field.
"I stepped on a mud patch and slipped there," he said. "It was a difficult wind, the shadows, the fog. I don't think we've played in those conditions before."
Cruz has been one of the team's most reliable defensive players for a team that led the NL West from day one on the way to winning 100 games under first-year manager Felipe Alou.
Snow also let a ball roll through his legs, setting up a run for the Marlins, and center fielder Marquis Grissom let a line drive bounce off his glove.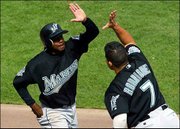 Losing pitcher Joe Nathan, a 12-game winner as a reliever this year, was tagged for three runs on four hits in the Giants' shaky sixth, with Encarnacion's shot tying it at 5. Jeff Conine, Alex Gonzalez and Harris all singled and Jason Christiansen relieved.
Christiansen immediately yielded the crazy double to Pierre.
Conine's groundout in the seventh made it 8-5. Pierre scored an unearned run in the eighth on the error by Grissom.
The Giants took a 5-4 lead in the fifth after pinch-hitter Pedro Feliz tripled and scored on Snow's single. Then, the Marlins began their impressive comeback.
The man who bats behind Bonds -- Alfonzo -- has become a big focus in this series. Alfonzo is 4-for-8 in two games and hit a two-run double in the fourth.
During batting practice Wednesday, Bonds asked first-base coach Luis Pujols to throw him some pitches out of the strike zone. He then hit a low-and-inside pitch down the right-field line and into the corner for an RBI double in the first.
Bonds made impressive diving, sliding grab on a line drive by Alex Gonzalez in the second.
The Marlins didn't get near the outing from Brad Penny that Josh Beckett gave them in Tuesday's 2-0 loss, but it didn't matter.
Penny lasted four innings and allowed four runs on four hits, struck out five and walked one.
That walk? To Bonds, of course.
Ponson insisted he would forget about his frustrating finish to the regular season and start anew in his playoff debut.
The right-hander, who ended the year with a three-start losing streak, gave up back-to-back singles to start the game, then settled down to retire 12 of the next 13 Florida batters before giving up three runs in the fifth.
Notes: Giants OF Marvin Benard underwent a 20-minute arthroscopic surgery on his left knee. When Benard did not make the playoff roster, he pushed up the operation in an effort to be fully recovered by spring training. ... Pierre, who led the majors with 65 steals, stole third in the fifth. ... Conine has a career NLDS batting average of .368 (7-for-19). He has three hits in the first two games.
Copyright 2018 The Associated Press. All rights reserved. This material may not be published, broadcast, rewritten or redistributed. We strive to uphold our values for every story published.