Calling it "the opportunity of a lifetime," Richard Norton Smith officially was introduced Wednesday as director of the Abraham Lincoln Presidential Library and Museum.
Smith will begin the job Dec. 1, when he steps down as director of the Dole Institute of Politics at Kansas University.
"This institute dwarfs anything that exists," Smith said of the $115 million Lincoln complex in Springfield, Ill.
Smith, 49, appeared at a news conference at the library with Illinois Gov. Rod Blagojevich, who recruited him for the position. Blagojevich's office said two weeks ago Smith was the only candidate in consideration for the job, but Smith remained mum on the possibility of his departure from KU until Wednesday.
"We did not bring someone of the caliber of Richard Norton Smith to simply sit in this $115 million complex and maintain its contents," Blagojevich said. "We brought him here because for millions of people across this state and across this nation, Abraham Lincoln's life should be celebrated and remembered.
"He understands, Richard does, that this institution must have an appeal that goes beyond the world of scholars. As he himself has said, you have to be both popular and scholarly."
The complex will house a 47,000-item collection on Lincoln. It will have a staff of about 150 people. The Dole Institute has a staff of five, including Smith.
After delays caused by construction problems and arguments over funding, the library is scheduled to open in March, and the museum in late 2004.
'Reached a pinnacle'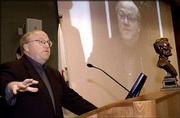 In a statement released by the Dole Institute, Smith said he informed KU officials and former U.S. Sen. Bob Dole last week of his decision to leave.
"I take with me warm memories of the many Kansans, on campus and off, who have offered personal encouragement and provided tangible support during the last two years," he said.
He could not be reached for further comment.
In a prepared statement, Dole thanked Smith for his work at the institute.
"I congratulate Rick on his exciting new position," Dole said. "In becoming executive director of the Lincoln library, he has reached a pinnacle. I could not think of a more fulfilling assignment, nor a more appropriate steward."
This was not the first time Smith had been considered to lead the Lincoln library. The award-winning author also was a candidate in early 2001 -- months before being hired by KU -- but withdrew his name from consideration, saying he feared former Gov. George Ryan was politicizing the job. Smith has since said that he was pleased with the way Blagojevich was handling the library.
During Wednesday's new conference, Smith said the opportunity to tell the story of Lincoln was one he couldn't pass up.
"Lincoln's has been called the greatest American story, and over the years it has been told many times, in many ways, by some of the greatest historians, scholars, biographers, painters, poets, composers, sculptors and teachers," Smith said. "But necessarily, it has been told in one or two dimensions. Next year, it will be told -- it will be lived -- in three dimensions, in a way that has never been experienced before."
Departure anticipated
KU Chancellor Robert Hemenway said he wasn't surprised Smith was leaving KU, though Hemenway said he met with Smith to persuade him to stay. Hemenway declined to give details of the meeting.
Many at KU had speculated that Smith would see the $11.3 million, 28,000-square-foot Dole Institute through its construction and dedication in July and then leave.
That assumption was based, in part, on Smith's track record. Since 1987, he has directed four presidential libraries -- for Herbert Hoover, Ronald Reagan, Dwight D. Eisenhower and Gerald Ford -- and the Dole Institute.
"He's the kind of person who's one of the best in his field," Hemenway said. "As a result, when there's a major new opportunity in the world of presidential libraries or institutes of politics, his name almost inevitably comes up."
Smith, who earned $155,529 a year at KU, will be paid $150,000 in his new post.
---
The Associated Press contributed to this report.
Copyright 2017 The Lawrence Journal-World. All rights reserved. This material may not be published, broadcast, rewritten or redistributed. We strive to uphold our values for every story published.