San Francisco — Jason Schmidt's phenomenal season is a product of his playoff experience last fall, when he emerged as the biggest standout of a pitching staff that really didn't have one.
These days, Schmidt is San Francisco's unquestioned ace -- and he gave the young Florida Marlins a taste of tough postseason pitching.
Schmidt pitched the Giants' first playoff shutout in 16 years, throwing a three-hitter for a 2-0 victory in Game 1 Tuesday.
"I felt like I learned a lot more in the last two games of the World Series than I did my whole career," said Schmidt, who has allowed just seven runs in his last four postseason outings. "I couldn't wait to get back to the postseason."
Schmidt outdueled Josh Beckett, and Bonds and the Giants took advantage of a costly error by fill-in Florida third baseman Miguel Cabrera to score the go-ahead run.
After retiring Derrek Lee on a grounder for the final out, Schmidt twirled on one leg before his teammates surrounded him in celebration.
The right-hander is feeling so good he'd appreciate the chance to face Barry Bonds -- and after the gem Schmidt pitched, he might have a decent shot at shutting down baseball's most feared slugger.
"I would challenge him," Schmidt said playfully.
At 68, Felipe Alou wound up a winner while managing his first postseason game and 72-year-old Jack McKeon lost in his playoff debut, then couldn't get to the interview room because fans grabbed at his jacket and hat while he worked his way down a crowded hallway.
Game 2 in the best-of-five NL series is Wednesday.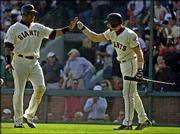 Bonds barely had two feet in the batter's box when catcher Ivan Rodriguez's glove shot out to signal an intentional walk, showing just how serious the Marlins were about not getting beat by Bonds.
Instead, the Marlins beat themselves with one bad throw.
Bonds wound up 0-for-1 with three walks. Chad Fox intentionally walked Bonds with nobody on base in the eighth, and he came around to score on Edgardo Alfonzo's double.
Bonds proved last postseason that he could carry his team -- the five-time MVP hit .356 with eight homers, 16 RBIs and 27 walks as the Giants reached the World Series for the first time since 1989 -- but the Marlins don't plan to let that happen if they can help it.
When he was intentionally walked in the first, the crowd of 43,704 began booing lustily.
On a day the teams combined for only six hits, the Giants scored their first run on a misplay.
Cabrera, starting in place of injured All-Star Mike Lowell, charged in on Alfonzo's fourth-inning bunt and made a wild throw to first. By the time the ball had stopped it was in the bullpen dirt and Rich Aurilia was headed for home.
Alou had said the key for Schmidt was to keep his pitch count down -- and that happened. The man with the league's lowest ERA worked ahead in the count and was at 79 pitches through six.
"We haven't seen any better stuff than that," Lee said. "He was throwing 94, 95, and hitting all the corners. It was impressive."
After Alex Gonzalez reached on an error in the fifth, Schmidt retired the final 14 batters. Schmidt walked none and struck out five.
Schmidt pitched the first postseason shutout for the Giants since Dave Dravecky beat St. Louis in Game 2 of the 1987 NL championship series.
Beckett was almost as impressive in his playoff debut. He gave up two hits in seven innings, striking out nine and walking five.
"When you're lucky enough to get a pitching performance like that, you've got to score some runs," Florida center fielder Juan Pierre said. "It's almost like we wasted it. We just ran into a bus over there. Everything would have been all right if we'd just scored some runs."
At 23, Beckett is seven years younger than Schmidt, but he didn't pitch like it.
"He's tough," Beckett said. "He threw probably 100 fastballs and I don't think he made a mistake on one of them. He outpitched me, what can I say?"
Beckett worked out of a first-inning jam after Ray Durham hit a leadoff double.
Durham went to third on J.T. Snow's flyout and after Bonds was walked with two outs, Alfonzo flied out.
Beckett retired seven consecutive batters, including five straight strikeouts before walking Aurilia in the fourth.
Before Bonds' fourth-inning at-bat, Beckett huddled on the mound with Rodriguez and pitching coach Wayne Rosenthal -- certainly discussing how to approach him this time around.
Beckett challenged Bonds all right.
Here's how it went: A 97 mph fastball, strike one. Outside, ball one. Low and in, ball two. Foul, strike two. High, ball three. Low, ball four. And Bonds was aboard again while McKeon barked about plate umpire John Hirschbeck's strike zone.
Marlins center fielder Juan Pierre insisted San Francisco's 5-1 showing against Florida this season wasn't a true indication of the talent separation between these two clubs -- the Giants reached the World Series last season and the Marlins are in the playoffs for the first time since winning the World Series in 1997, and they swept San Francisco in the first round to get there.
Notes: The crowd was a Pacific Bell Park record, breaking the mark of 43,070 from last Oct. 6 in Game 4 of the NLDS against Atlanta. ... Amputee football player Neil Parry of San Jose State threw out the first pitch. ... Beckett's nine strikeouts set a franchise division record. ... Alfonzo has 12 RBIs in nine career division series games.
Copyright 2018 The Associated Press. All rights reserved. This material may not be published, broadcast, rewritten or redistributed. We strive to uphold our values for every story published.