Conventional wisdom is that school teachers are underpaid.
That doesn't necessarily hold true for their bosses, though.
Lawrence-area school district administrators are being paid as much as four times the average Kansas wage, according to accountings of salaries released Tuesday.
A new state law requires that Kansas districts provide their local newspapers a list of administrators, their job titles, and salaries by Oct. 1.
And while each of the Lawrence-area districts complied with the law, school officials clearly resented the legislative mandate requiring the extra effort.
"I absolutely have no idea what the rationale is," said Lawrence Supt. Randy Weseman. "It sounds political to me. It sounds like people are trying to say school administrators are making too much money."
"It was completely political," Oskaloosa Supt. Loren Lutes said of the legislative order. "They want to give us some negative publicity."
Senate Bill 82 was signed by Gov. Kathleen Sebelius in April and became law in July. It mandated delivery of the salary list to each district's official newspaper of record by Oct. 1 of each year. There is no requirement for newspapers to publish the list. And districts are not obligated to pay for publication.
The Journal-World decided to publish the list because taxpayers should know how public funds are being spent, said Richard Brack, managing editor.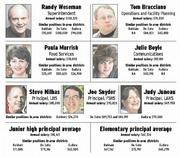 Public school district employee compensation is a matter of public record under Kansas law, but until now, individuals had to request specific information from districts to receive the data.
Annual salaries of superintendents in Lawrence-area districts ranged from a low of $71,791 for McLouth Supt. Jean Rush to the high of $130,320 paid to Lawrence's Weseman.
In the Lawrence district, the summary of 62 administrative employees shows 19 administrators have salaries that top $70,000; 10 earn more than $80,000; and three, including Weseman, were paid more than $90,000.
Myron Melton, principal of West Junior High School, said he had mixed emotions about a law requiring distribution of salary details. He's in the group making from $70,000 to $80,000.
"Mandating those be released, it feels a little like it's an invasion of privacy," he said. "By the same token, it's always been public information."
Jim Edwards, governmental relations specialist for the Kansas Association of School Boards, said the new law emerged after debate about an existing law requiring some districts to disclose salaries.
Instead of deleting the statute, lawmakers updated the measure.
Some legislators who backed the bill said the public should have easy access to the information, Edwards said. Others appeared to have a secondary agenda, he said.
"There are some in the Legislature who believe you could solve all the problems of education by eliminating administrators," Edwards said. "They wanted to prove a point."
He said the association worked with committees in the Senate and House to get a version of the bill that didn't place a big reporting burden on districts.
Dale Dennis, deputy commissioner of the Kansas State Board of Education, said lists supplied to individual newspapers would be of marginal value if analyzed outside the context of comparable information on other districts.
"That, in and of itself, doesn't help very much," he said.
Weseman said the Lawrence district's administrative salaries were based on market conditions.
"We are in Kansas," he said. "This is what it takes to attract people we need."
Anybody who thinks the Lawrence district is top-heavy hasn't done enough homework, Weseman said. Dozens of jobs have been eliminated during the past several years, he said.
The Lawrence district no longer has assistant superintendents, for example.
"I'm an administrative minimalist," Weseman said. "I have no desire to pad the administration. I don't feel like it produces results, and it only adds a burden to the organization."
Here is a list of the annual average pay for 50 jobs in the 17-county area of northeast Kansas that includes Douglas County, and for the state.
Job
Northeast Kansas
Kansas
Accountants and auditors
$42,806
$51,064
Architects
$49,462
$55,078
Bartenders
$14,331
$14,580
Butchers
$33,404
$26,374
Cashiers
$14,872
$15,059
Carpenters
$32,240
$34,049
Chief executives
$103,022
$109,054
Clergy
$39,062
$36,670
Computer programmers
$49,067
$59,550
Dental assistants
$22,859
$25,563
Dentists
$106,496
$106,496
Electrical engineers
$61,713
$62,358
Electricians
$37,273
$40,123
Elementary teachers
$34,195
$35,360
Executive secretaries
$29,182
$31,553
Family/general practitioners
$115,398
$123,073
File clerks
$18,096
$19,468
Financial analysts
$51,168
$48,859
Firefighters
$21,881
$24,835
Funeral directors
$56,139
$41,641
Home health aides
$18,387
$18,158
Insurance underwriters
$54,641
$57,262
Kindergarten teachers
$33,862
$34,548
Lawyers
$65,582
$77,729
Legal secretaries
$25,396
$27,456
Librarians
$38,105
$38,937
Loan officers
$39,416
$46,508
Mechanics
$31,179
$30,326
Medical assistants
$21,424
$21,611
Mental health counselors
$29,619
$30,867
Middle school teachers
$34,361
$36,878
Nurse's aide
$19,073
$18,907
Pharmacists
$66,144
$70,387
Plumbers
$34,736
$40,268
Police/sheriff patrol officers
$32,323
$32,739
Postal service mail carriers
$38,313
$38,355
Postal service clerks
$39,228
$39,208
Receptionists
$18,761
$20,134
Registered nurses
$41,329
$40,996
Retail salespersons
$18,886
$20,009
Roofers
$27,664
$28,454
Secondary school teachers
$34,049
$35,921
Secretaries, other
$22,422
$22,859
School bus driver
$23,670
$22,588
Short-order cooks
$15,454
$15,641
Surgeons
$145,475
$145,100
Tellers
$19,136
$19,510
Veterinarians
$54,038
$45,406
Waiters/waitresses
$13,811
$14,310
Welders
$25,604
$28,163
Kansas average annual pay
$30,153
U.S. average annual pay
$36,214
Source: Kansas Department of Human Resources state wage survey
Copyright 2018 The Lawrence Journal-World. All rights reserved. This material may not be published, broadcast, rewritten or redistributed. We strive to uphold our values for every story published.