Topeka — Sixteen-year-old Tong Athwai smiles broadly and speaks confidently when using his newly acquired English even when describing the horrifying events that forced him and his family from their home in Sudan.
The two public buses he catches each morning to classes at Highland Park High School and the cold winter wind -- which doesn't exist in his hot, swampy homeland -- are nothing to complain about after spending three years as a refugee in Egypt and being chased from his village by fighters from northern Sudan.
Athwai and his uncle's family -- Christians who speak the Dinka language of southern Sudan -- have finally found a safe haven in Topeka as refugees resettled through the Kansas City offices of Catholic Charities.
Athwai said Muslim fighters from the north stormed his village when he was 12, threatening to kill him as they stole possessions from his family's home. He had no choice but to flee and was lucky enough to escape to Egypt, where he lived with his uncle Rual Ayat in Cairo.
Athwai got permission to enter the United States as a refugee and arrived by plane April 17 in Kansas City. He lived with friends among a community of about 200 Sudanese already resettled in Olathe until Ayat arrived with his family in June. With Ayat, 30, came his wife, Helen Akut, 20, son, Deng Deng, 4, baby daughter, Adal Deng, 8 months, and younger sister, Abuk Deng, 10.
The family settled in Topeka because the Assembly of God church had asked to sponsor a refugee family. They arrived with only the summer clothes and sandals they wore, said Jennifer Bureheide, a church member who helps the family communicate with the children's schools and takes them to the doctor and shopping.
'The war in our country'
At a Sunday church service in November, Rual Ayat told his family's story through the translation of Akot Arec, a Sudanese refugee-turned-social worker with Catholic Charities.
"We were forced to leave our country because of the war in our country," Ayat explained from the front podium of the church.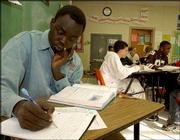 In 1995, Ayat took Abuk, his little sister, and fled to northern Sudan, where refugee camps had been established. He found a job with an international organization distributing food to refugees in the camps near Khartoum, the country's capital. But he was arrested by the northern government in 1997 after he distributed food cards as part of his job -- he was accused of trying to convert Muslim refugees to Christianity.
He was soon released but ordered to check in at the jail every two days. He feared being killed.
"At that time I decided to tell my wife to leave, and then I left," he said.
After briefly returning to her home village, Helen and the children fled to neighboring Egypt with the help of Ayat's friend. Ayat soon joined them. They waited there until they came to Kansas.
"I'm very happy to come here and tell this group what is happening in southern Sudan, because lots of people don't know what's happening," he said.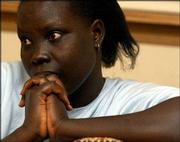 'A blessing to know'
Assembly of God congregate Hal Smith said the church provided total financial support for the Ayat family, paying rent, bills, food and transportation costs. Smith said many organizations donated furniture, clothing and other items they needed. Cornerstone offered them a new, three-bedroom apartment in central Topeka at half cost.
Although Rual Ayat works at Marley Cooling Co. in Olathe, federally sponsored refugees arrive in this country with a debt of travel expenses for each family member that must be repaid.
Akot Arec said getting Social Security cards, identification cards, food stamps and welfare benefits for the family was difficult because agencies in Topeka hadn't dealt with refugees before. Smith said church members decided to sponsor a Sudanese family after Sen. Sam Brownback encouraged him to help Sudanese Christians.
Brownback said he has encouraged the United States to resume issuing visas to refugees at the same level as before Sept. 11, 2001. Brownback has met with leaders from the southern Sudanese People's Liberation Army and the bishop of southern Sudan as part of a U.S.-led peace accord.
"I find as people open their hearts up and when they know and meet somebody personally who has been in such a horrific situation as the Sudanese are involved with, it just makes it very personal, and instead of being a number or a catastrophe, it's something that touches their hearts," Brownback said. "These people are such a blessing to know."
As the temperature falls, Athwai is waiting expectantly to see snow. A Sudanese told him about the cold white falling from the sky, but it is still difficult to imagine.
"Before I go out the house, I will watch the TV" to learn the temperature, he said in an interview at the family's apartment. Athwai is attending school for the first time since he was 10, and his aunt, Abuk, a student at McClure Elementary, had never attended school. Now she relishes music and English classes and the chance to play basketball in gym and with children from church.
Helen Akut receives English tutoring in her apartment twice a week and cares for baby Adal and 4-year-old Deng, who attends Head Start in the mornings.
When asked if it was difficult to live in Topeka, away from the rest of her family, food and culture, Akut shrugged. Athwai translated that for her, it is fine to be here. She smiled.
Copyright 2018 The Associated Press. All rights reserved. This material may not be published, broadcast, rewritten or redistributed. We strive to uphold our values for every story published.