Rochester, Mich. — Rickey Paulding's and Arthur Johnson's return home almost turned into a disaster.
Paulding scored 21 points, and Johnson added 19 to lead No. 5 Missouri to a tough season-opening 90-85 victory over Oakland Saturday night.
Paulding, a preseason All-American, and Johnson are both products of the Detroit Public School League. Oakland is located 30 miles north of downtown Detroit, and the pair had a large cheering section among the sellout crowd of 4,055.
"Motown has been very good to us with Rickey and A.J., and that's why we gave up a home game to play here," Tigers coach Quin Snyder said. "But with four minutes left, it wasn't seeming like such a good idea."
Missouri led Oakland (2-4), in just its sixth year of Division I-A play, by one point with less than three minutes to play. The Golden Grizzlies had lost their last two games, to Michigan and Cincinnati, by an average of 27.5 points.
"I've got a lot of old friends on that Oakland team, so I knew they were going to be tough," Paulding said. "There was no way they were going to lay down."
Jimmy McKinney added 21 points for Missouri, which had five players score in double figures. The Tigers hurt themselves by committing 20 turnovers to just seven for Oakland.
"We needed a game like this -- all the practice in the world can't replace game action," Snyder said. "A.J. and Rickey were under a lot of pressure playing at home, but I'm proud of the way all our guys responded down the stretch."
Oakland's Rawle Marshall led all scorers with 27 points, while Mike Helms had 21 before fouling out with 8:12 left and Missouri leading, 70-67.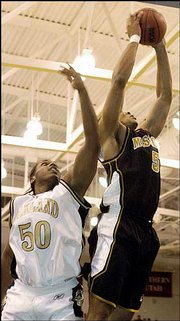 No. 24 Oklahoma State 84, Pepperdine 82
Stillwater, Okla. -- Tony Allen hit the go-ahead free throw with 2.5 seconds left, and Joey Graham rebounded Allen's miss on the second attempt and made a free throw to help Oklahoma State hold off Pepperdine.
Allen scored 17 points, and Ivan McFarlin added 12 points and 12 rebounds, helping the Cowboys win their 30th straight nonconference home game and 109th of their last 110.
Shaun Davis scored 21 points and had five assists to lead Pepperdine.
No. 11 Texas 94, Centenary 59
Austin, Texas -- P.J. Tucker scored 15 points, and James Thomas added 13 in Texas' victory over Centenary. Texas (3-0) led, 42-33, at the half, and Thomas scored six straight points to open the second half and start a 25-9 run.
Rickey Evans led Centenary (1-2) with 17 points, but no other player scored in double figures. Centenary (1-2) shot just 34 percent in the second half (11-of- 32). Brandon Mouton recovered from a 1-for-7 start to finish with 10 points for the Longhorns.
Kansas State 68, Gardner-Webb 65
Manhattan -- Jarrett Hart took a late charge and then hit a three-pointer with one-tenth of a second left to give Kansas State a win over Gardner-Webb. Hart's 14 points led the Wildcats, who held off a second-half rally to earn their first 3-0 start in five years.
The Bulldogs (1-3) trailed 39-26 at the break but opened the second half with a 10-0 run and continued to gain ground on Kansas State down the stretch.
Hart hit a free throw with 4:03 left and a jumper 27 seconds later for a 64-59 lead, but two straight baskets by Simon Conn put Gardner-Webb up 65-64 with 2:11 to go.
Marques Hayden hit the front end of a two-shot foul with 1:39 left to tie it at 65, and the Wildcats got the ball back for their game-winning possession when Hart took a charge from Andre Manning with 16 seconds remaining.
Nebraska 67, Eastern Michigan 59
Lincoln, Neb. -- John Turek scored 16 points as Nebraska used smothering defense to open a 27-point second-half lead, then held on to defeat Eastern Michigan. Nebraska (2-0) held Eastern Michigan (2-2) to just 5-of-28 shooting in the first half while hitting 14 of its 25 shots. The Eagles made just three of their first 19 shots and had a nearly 10-minute stretch without a field goal.
Baylor 69, Texas A&M-Corpus; Christi 62
Waco, Texas -- Terrance Thomas scored 22 points, and Baylor hit 11 of 12 free throws in the closing minutes as the Bears came back to beat Texas A&M-Corpus; Christi. Baylor (2-1) trailed 54-48 with 8:10 remaining before going on a 10-1 run over the next five minutes. Ellis Kidd hit two straight jumpers, and Tommy Swanson scored two layups that put Baylor ahead, 58-55.
Copyright 2018 The Associated Press. All rights reserved. This material may not be published, broadcast, rewritten or redistributed. We strive to uphold our values for every story published.