Roswell, Ga. — UPS, FedEx and other delivery companies will be getting help from millions of customers this holiday season.
Using the Internet, many holiday shoppers will take part in the shipping process, pointing and clicking to create their own shipping labels, or, if they're ordering online, supplying information that makes it easier for packages to be sent worldwide.
As a result, UPS needs to hire only 50,000 seasonal workers, the same as last year, despite a shorter-than-usual holiday shipping season and projections that it will deliver 1 million more packages on its peak day than last year. FedEx, too, is using technology to ease the flow of holiday packages.
"The Internet has changed the way we all operate," said Mark Hopkins, a vice president in UPS' package process management division. "Over the last five years, we've had a significant increase in package level detail that we receive electronically. It lowers our overall costs because we can automate many of our processes internally."
Atlanta-based UPS says the majority of its packages this holiday season will come in already labeled with key information such as sender, destination, weight and the level of service, for example, next-day air or ground delivery.
UPS uses the information to sort and route the packages -- even telling truck drivers exactly where a package should be loaded onto a delivery vehicle. That information also is downloaded to the driver's electronic clipboard, which guides him or her through the delivery process.
"In the old world, we'd bring in a new hire and they'd have to learn street addresses of where the package is going to and where they would sort it in the building or which vehicle it needs to be loaded on," Hopkins said. "This online technology is allowing us to leverage that flow of information to break through the knowledge barrier ... to allow them to do their jobs more efficiently."
The firm expects to deliver 20 million packages on its peak holiday delivery day -- Dec. 18.
Memphis, Tenn.-based FedEx expects to hire several thousand seasonal workers during the holidays to help process ground shipments, about the same number as last year. Like UPS, FedEx also is seeing an increase in online shipping activity this holiday season, spokeswoman Traci Barnett said.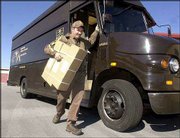 Copyright 2018 The Associated Press. All rights reserved. This material may not be published, broadcast, rewritten or redistributed. We strive to uphold our values for every story published.