Omaha, Neb. — Nebraska football coach Frank Solich was fired Saturday night after winning more than 75 percent of his games over six seasons but failing to keep the Cornhuskers as the national powerhouse they were under Tom Osborne.
The firing by athletic director Steve Pederson was first reported by the Omaha World-Herald and the Lincoln Journal Star.
"He's pretty strong, but he's disappointed tonight," Solich's son-in-law, Jon Dalton, told the Associated Press.
"I don't know the reason behind it," Dalton said. "Get Steve to tell you. This is a sad day for the state of Nebraska."
Solich and Pederson could not be reached for comment.Solich had just finished a 9-3 regular season with Friday's 31-22 victory at Colorado. He was 58-19 in six seasons.
Pinnacle Sports Network, the rights holder for Nebraska radio broadcasts, reported that first-year defensive coordinator Bo Pelini would be the interim head coach. The current group of assistants will coach the team in Nebraska's upcoming bowl game. It was unknown whether any of the assistants would be retained after the bowl.
"Frank just said it was over, and that Steve (Pederson) would be contacting us," offensive coordinator Barney Cotton told the Lincoln Journal Star.
Solich took over after Osborne retired after the 1997 season. The Cornhuskers won at least a share of the national title in three of Osborne's final four seasons.
Solich was 42-9 in his first four seasons.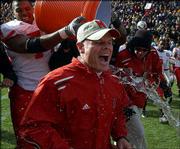 He was Big 12 coach of the year in 1999 and 2001 and won the '99 conference title, and his team played for the national championship after the '01 season.
But Solich's success was downplayed because critics said he won with players recruited by Osborne.
The Cornhuskers went 7-7 in 2002 -- the team's worst season since 1961 -- and struggled against quality opponents this season.
Their three losses all were by more than 17 points, capped by a 38-9 loss to Kansas State.
The last Nebraska head football coach to be fired was Bill Jennings, who was removed and replaced by Bob Devaney in 1962.
Copyright 2018 The Associated Press. All rights reserved. This material may not be published, broadcast, rewritten or redistributed. We strive to uphold our values for every story published.