Columbia, Mo. — It's tough to please coach Gary Pinkel, as Brad Smith keeps finding out.
Smith ran for 195 yards and two long touchdowns, and Zack Abron set the school career rushing record and ran for a score in Missouri's 45-7 victory Saturday over Iowa State. Then again, Smith only had 108 yards passing.
"He's a great player," Pinkel said. "The thing we've got to do is become a good throwing team, then we'll be deadly.
"We'll just keep working on it, because he's got the ability to be a great thrower."
Missouri (8-4 overall, 4-4 Big 12 Conference) was 6-0 at Faurot Field, the school's first unbeaten season at home since 1974. The Tigers, who ended a four-game losing streak against Iowa State, have eight regular-season wins for the first time since 1980 with the school's first bowl game since 1998 remaining.
The finish was especially sweet to the team's seniors, savoring their first winning season.
"When you come in as a freshman, you plan on having bowl rings on all of your fingers when you leave," offensive tackle Rob Droege said. "Now, it's just a great feeling just to get one."
Iowa State quarterback Waye Terry was taken off the field on a stretcher because of an apparent head or neck injury late in the third quarter. But the injury wasn't believed to be serious.
"He's got feeling back in his hands and feet, and that's the best news coming out of today," coach Dan McCarney said. "Obviously we're very disappointed in the loss -- but, thank God, they think he's going to be OK."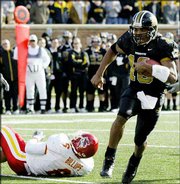 Stevie Hicks had 123 yards on 28 carries, his first career 100-yard game, for the Cyclones (2-10, 0-8), who lost their final 10 games of the season. They went to bowls the previous three years.
"None of us ever want to go through another season like this again, coaches and players alike," McCarney said. "We've got to do all we can to make sure it doesn't happen again."
Smith, who scored on runs of 19 and 61 yards, has a chance to become the first player in NCAA history to throw for 2,000 yards and run for 1,000 in two seasons. Smith has 1,310 yards rushing and 1,822 passing.
Missouri put Iowa State away after a slow start, getting two touchdowns in the final 3:48 of the first half to break up a scoreless game. The Tigers had two more touchdowns and a field goal in the third quarter for a 31-7 lead.
"We just had to make plays," Smith said. "You think it's going to be easy, and guys are going to be open. When they aren't, you just have to go out and push."
Abron had 46 yards on 11 carries and has 3,061 career yards, surpassing the record of 3,027 set by Brock Olivo from 1994-97. Earlier in the season he broke the career scoring and touchdown record held by Corby Jones, also from 1995-98.
The only problem with the rushing record is that Smith has 2,339 yards rushing with two years to go.
"To be able to break that record is great," Pinkel said. "I've suggested that record might not be here that long, but I'm so very proud of him."
Damien Nash scored two touchdowns, including a 61-yard run in the fourth quarter, and totaled 91 yards on 10 carries.
Marcus James also set a school career mark for return yards.
Copyright 2018 The Associated Press. All rights reserved. This material may not be published, broadcast, rewritten or redistributed. We strive to uphold our values for every story published.