KANSAS CITY, KAN. — Sam Butler is healthy.
But his alter ego, Max Gold, is an angry man with chronic stomach pains.
Butler is a "standardized patient" -- one who role-plays for medical students -- in the clinical skills laboratory at the Kansas University school of medicine. He's helping students hone their bedside manner, a relatively new focus of medical education.
"At first they're scared," Butler said, "but by the third year they look like doctors and act like doctors."
Clinical skills, which include routines for gathering a patient's history and conducting physical examination, have been an increasing part of medical education the past two decades.
But the issue gained new prominence last year, when the National Boards of Medical Examiners announced it would add a clinical skills assessment to tests required for certification. Students in the class of 2005 will be the first to take the test.
The new requirement, an addition to written tests, has sparked controversy in the medical community.
The medical examiners board says the exam will help ensure new doctors are qualified. Opponents, including the American Medical Assn., say there's no scientific proof that the testing will be valid and the $975 test fee will be prohibitive for students, who also are required to pay travel expenses to five regional testing sites.
Mark Meyer, associate dean for student affairs at KU, said university officials recognized the need for testing clinical skills -- but they didn't think it should require a national test.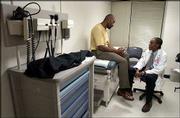 "We're already doing clinical skills assessment activity," he said. "It should be a fundamental part of every medical school."
Role-playing
The testing requirements have led to a sort of medical theater at universities across the country. KU's lab opened in fall 2002, after the new test was announced, though it was in the works before that.
David Virtue, director of KU's clinical skills lab, said he usually hired friends of medical center staff to serve as actors, because they're typically more reliable than others needing part-time work.
The "patients" are paid $15 an hour for a minimum of three hours. They're given a sheet of paper with their character's ailments and medical history to memorize. Patients have a variety of conditions, including indigestion, dizziness and heart trouble.
The standardized patients are trained for giving feedback to students about their interpersonal communication skills. They also note when the prospective doctors don't ask key questions about patients' histories or don't perform certain examination procedures.
At KU, first- and second-year students are required to spend several hours in the clinical skills lab about four times a semester. Third-year students have a more comprehensive exam at the end of their final semester.
Students dart from room to room as if they were real doctors making rounds.
Virtue said students tended to get excited about their lab time.
"This," he said, "is what they came to medical school for."
Patient perspective
Butler, one of the patients, works in the clinical skills lab during the school year, the off-season for his job working for Camp Fire USA.
He said the most common problem young students had was being timid.
"A lot of it is having good command of the exam room," he said. "You don't have to apologize for having a patient do something or if your hands are cold."
The mistakes are better made on actors than real patients, said Carla Aamodt, medical director of the clinic.
"It helps break the ice," Aamodt said. "There are things you can talk about in a lecture hall, but there's no substitute to actually doing it."
'Humbling experience'
Andy Humpert never realized he fidgeted so much until he saw a tape of himself interviewing a standardized patient.
Humpert's interview, captured by a high-tech system of cameras in each room in the lab, was an eye-opener for the second-year medical student.
"You don't often get a chance to be with a patient one-on-one," he said. "It's a very humbling experience."
Sarah Seglie, another second-year student who worked in the lab last week, said she fumbled around with her stethoscope and had difficulty remembering what questions to ask patients during her lab time.
"People can tell you what questions to ask, but until you're in that situation you never know whether you'll remember them or not," she said. "Doctors make it look so smooth."
Copyright 2018 The Lawrence Journal-World. All rights reserved. This material may not be published, broadcast, rewritten or redistributed. We strive to uphold our values for every story published.