RAMALLAH, West Bank — Palestinian Prime Minister Ahmed Qureia on Saturday harshly criticized Israel's West Bank security barrier, threatening to pull out of peace negotiations if construction of the structure isn't halted.
Qureia's tough words came hours before he traveled to neighboring Jordan for a meeting with U.S. envoy William Burns, who has returned to the region in hopes of reviving the stalled "road map" peace proposal.
Palestinian officials said Qureia was expected to tell Burns that he was optimistic that he could persuade Palestinian militants, in talks beginning Tuesday in Egypt, to halt attacks on Israel. But Qureia also planned to ask Burns to put pressure on Israel to halt construction of the barrier and to withdraw from Palestinian areas.
Qureia did not comment after Saturday night's meeting. He is seeking to present a truce agreement to the Israeli government in hopes of reaching a cease-fire deal that could revive talks on the road map. The U.S.-backed plan calls for a series of steps leading to an independent Palestinian state by 2005.
During Saturday's meeting, Burns repeated the U.S. commitment to establishing a Palestinian state, but said the Palestinians must end "terror and violence" against Israel, according to a statement issued by the U.S. Embassy in Amman, Jordan.
Burns also repeated President Bush's belief that Israel must "end the daily humiliation of the Palestinian people and rebuild trust," the statement said.
Hours before the meeting with Burns, Qureia said the continued construction of the barrier was threatening the prospects for peace.
"If the Israeli government says it will continue building the wall ... then there is no need for any meetings," he said, referring to possible talks with Israeli Prime Minister Ariel Sharon. "I am not saying this is a precondition, but I want serious positions (from Israel)."
Israel says the barrier is necessary to block Palestinian suicide bombers. But Palestinians say the structure is an Israeli effort to seize Palestinian land. The barrier of razor wire, fences, concrete walls and trenches is expected to run 430 miles along the Israel-West Bank border. When it is completed, parts will dip deep into the West Bank.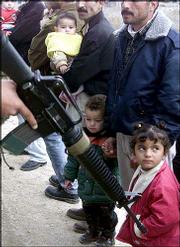 Zalman Shoval, an adviser to Sharon, said that construction of the fence would continue as long as Israel felt its security was threatened. But he left the door open to negotiations if the Palestinians make progress on halting militants.
"It's somewhat curious for a Palestinian prime minister supposedly committed to peace to object to something whose one and only purpose is to protect human lives," Shoval said. "If terror would stop altogether and terror organizations would be broken up ... there won't be a need for a fence."
Copyright 2018 The Associated Press. All rights reserved. This material may not be published, broadcast, rewritten or redistributed. We strive to uphold our values for every story published.