Kabul, Afghanistan — Afghan President Hamid Karzai met with the chief of the U.S. Central Command on Saturday and told him that the country's three main problems remained terrorists, drug trafficking and provincial warlords.
Gen. John Abizaid, whose command territory includes Afghanistan and Iraq, met for about 45 minutes with Karzai at the Presidential Palace in the capital, Kabul, to discuss the military situation in the country, deputy presidential spokesman Hamed Elmi told The Associated Press.
The closed meeting also was attended by Zalmay Khalilzad, an Afghan-American who formally took up his position Saturday as the new U.S. Ambassador to Afghanistan. Khalilzad, an ethnic Pashtun, previously served as President Bush's special envoy.
Later, in a speech on state-run television, Khalilzad said he was determined to help Afghanistan rebuild itself and join forces with neighboring countries such as Pakistan in the global war against terrorism. He spoke in the Afghan language of Dari.
Gen. Abizaid "briefed President Karzai about the security situation in Afghanistan, saying it has improved, but that U.S. forces continue to follow terrorists and attack them," Elmi said.
Some 35 Americans have died from hostile fire in Afghanistan since the October 2001 start of the Afghan war, according to the U.S. military. Sixty-two others have died in nonhostile situations.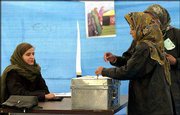 Copyright 2018 The Associated Press. All rights reserved. This material may not be published, broadcast, rewritten or redistributed. We strive to uphold our values for every story published.