THAYER — A quiet financial boom is under way in this rural hamlet of 450 people.
There are few obvious signs, but what's happening here bodes well for the future of struggling farm economies throughout southeast Kansas and beyond.
The cluster of modest houses that make up this town is nearly hidden behind the busy clutter of road construction along U.S. Highway 169. But even that added trade from construction crews pales next to the newly tapped riches -- methane gas -- that lie deep beneath its surface.
Decades ago, methane bound onto the rich coal deposits in southeast Kansas was a dangerous byproduct of coal mining -- known for blowing up mines and killing miners.
But new technologies are making coal-bed methane -- a natural gas produced from underground coal deposits -- a lucrative natural resource industry for Kansas.
The pump jacks that now dot the landscape are infusing millions of dollars into once dying rural Kansas towns like Thayer.
It was 2001 when drilling intensified in four or five rural counties around Independence.
Today, more than 1,300 coal-bed methane gas wells have been drilled in eastern Kansas.
Geologists believe eastern Kansas may contain one of the nation's biggest reserves of coal-bed methane. Methane gas drilling now extends from Nebraska to Oklahoma, and even into Missouri.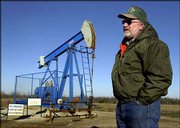 Soaring income
In few places has the impact been more dramatic than in Neosho County, where county Appraiser Bob Kline has seen revenues from landowner royalties and operator interests skyrocket from $1.6 million in 2001 to $104.1 million in 2002.
More than 300,000 acres are now under lease for methane gas production in the area, and taxable valuations for it have soared from $100,000 in 2000 to an estimated $3 million this year, Kline said.
"With the farm economy as it is and the financial straits many farmers find themselves, the gas leases and gas production has been nothing less than a blessing," said Dwayne Umbarger, a Neosho County farmer and state senator.
Umbarger now receives between $1,500 and $2,000 a month in additional income from the methane production on his farm. Other landowners are seeing monthly checks as high as $5,000 or $10,000 for wells on their farmland.
The Umbargers are using the money to run their household and for other family expenses. They are also doing some long-neglected maintenance to their farmhouse.
"In the rural environment how farmers are doing as far as having a good year or bad year has a direct link on how local communities do also," he said. "When farmers have money they go to the local community to buy new farm equipment, new automobiles -- even a new set a clothes."
Cautious optimism
Not that Umbarger himself is buying any of those items.
In fact a spot check of automobile dealers and other area businesses in surrounding towns indicate few, if any, major purchases reminiscent of the oil boom days of the 1980s.
People here remember all too well the oil bust that closed the doors of two banks in Chanute. They remember the farm crisis of the mid-1980s that drove many farmers into foreclosure. And the drought of the past two years remains.
Longtime residents say they're looking at this newfound gas prosperity with cautious optimism. They are getting their farms and businesses back onto a sound financial footing, rather than expanding or starting new ones.
Local workers suddenly finding themselves with good jobs and overtime pay in this emerging industry are paying bills and socking money away in savings accounts.
"Some of these people were hit so hard they have learned their lesson," said Patrick Shields, general manager of Shields Motor Co. in Chanute.
Back to work
Figures compiled by the Kansas Geological Survey estimate increased employment from the methane production at 36 workers in Neosho County.
One such worker is Billy Williams, a Fredonia resident who used to scratch out a living here doing carpentry and farm work before landing a job tending the gas fields. Now he works for Dirtworks, a contractor that does pump maintenance work for one of the big methane gas companies here.
"I make a considerable amount more money and have a lot more work -- it has kept me afloat," Williams said.
At Big Ed's Steakhouse in Thayer, Williams and his lunch buddy, Robin Pierpoint, take a break from their gas field rounds to come in for lunch.
Pierpoint works for Devon Energy Co., the Oklahoma City-based company that has drilled many of the wells here. He was hired about a year and a half ago as one of five employees Devon has in the area.
Before that Pierpoint had his own oil business in southeast Kansas. But he said the Devon job has given him more income -- money that he is using to pay off his loans and his house.
"It has always been a very depressed area as far as money," he said. "It has brought the economy around."
Keeping the homestead
Brian Schulz, the owner of Flyer Feed and Tire in Thayer, said he had changed 100 tires this past year just for Quest Energy in Benedict. People are spending money for fuel and food -- this town of 450 residents supports five restaurants and two convenience stores.
"It is a big boost for our area -- it is really unbelievable what it is going to do," Schulz said.
Schulz lives on a 160-acre farm, all planted to grassland. His one methane gas well on it brings him between $600 and $700 each month. It is money he is using now to pay the phone, electric, water and gas bills at home and make the property tax payments on his farm.
His one-eighth interest in the gas production in that single well -- a typical revenue share for landowners -- is enough, he said, to make his farm loan payment if necessary: "Why would I want to sell the farm?"
Thayer's newfound wealth stems from its homesteading days, when the federal government was still passing along mineral rights with farmland to Kansas settlers.
By the time the westward migration reached places like Wyoming, the government was mostly keeping mineral rights on land, said Tim Carr, chief petroleum researcher for the Kansas Geological Survey. That means the government, not ranchers, are getting the benefit from today's drilling in much of Wyoming and other states.
In Kansas, coal-bed gas methane production annually now stands at 6 billion cubic feet -- still relatively small considering total gas production in the state is 453 billion cubic feet. About 80 percent of that now comes from the Hugoton gas fields in southwestern Kansas, Carr said.
Copyright 2017 The Associated Press. All rights reserved. This material may not be published, broadcast, rewritten or redistributed. We strive to uphold our values for every story published.