Washington — November was the deadliest month yet for the American military in Iraq.
Seventy-seven U.S. servicemen and women have died -- compared with 73 in the previous two months combined.
Including six Americans killed in Afghanistan, November was the most costly month for the military since February 1991, when 162 U.S. troops were killed in the climax of the first Gulf War.
Helicopter crashes on Nov. 2, 7 and 15 killed a total of 39 soldiers. Before last month, the insurgency had scant success in targeting U.S. helicopters or other aircraft.
Coincidentally, five of the six killed in Afghanistan in November also were in an aircraft crash -- an Air Force MH-53 special operations helicopter that went down near Bagram on Nov. 23. That crash is under investigation and may not have been caused by hostile fire.
U.S. officials in Iraq said last week that the number of attacks against Americans had declined in late November, although fatal attacks against Iraqis seen to be working with U.S. occupation authorities have become more frequent. U.S. military officials attributed the decline in attacks on their troops to improved intelligence and their stepped-up offensive against insurgents.
Lt. Gen. Richardo Sanchez, the top U.S. military commander in Iraq, told reporters Saturday in Baghdad that guerrilla attacks on U.S.-led forces had dropped by 30 percent in the past two weeks, from a daily average of 35 to 22. Earlier this month, the total reached as high as 50 attacks per day, Sanchez said.
The American death toll, particularly in Iraq, where it appeared the worst was over when Baghdad fell in early April, is a politically sensitive subject for the Bush administration. Defense Secretary Donald Rumsfeld frequently offers public statements of appreciation for the sacrifices. Last week, he made an unusual allusion to the horrific death toll in 20th century wars.
"If one thinks back to the casualties of wars past -- some 292,000 were killed in World War II, 34,000 in Korea, 47,000 in Vietnam -- we can give thanks that our forces in this war have not faced casualties of such enormous magnitude," he said.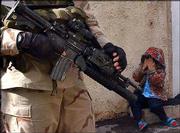 Copyright 2018 The Associated Press. All rights reserved. This material may not be published, broadcast, rewritten or redistributed. We strive to uphold our values for every story published.