It was fitting Sarah Rome thumped the first kill for Kansas University during its Senior Night volleyball match at the Horejsi Center.
That whack bumped the senior to the top spot on KU's career kills list. Rome thumped 10 more before leaving Saturday's match to a standing ovation late in Game Three.
Moments later, the crowd rose to its feet one more time as Kansas finished off Texas Tech, 3-0 (30-26, 30-23, 30-21). The victory ensured the Jayhawks (21-10 overall, 13-7 Big 12 Conference) a share of third place in the Big 12 and likely solidified a first-ever NCAA Tournament berth.
Rome said she never would forget taking her final bow at Horejsi.
"It was pretty sweet to see everyone stand, and given an ovation ... that feels good," Rome said. "To walk off and have that be your last memory is great. Our fans have been awesome all year, and that just proved it right there."
Sandwiched between Rome's first and last kill was a stiff battle from a Texas Tech squad playing its final match of the season.
Kansas raced to a 7-1 lead in Game One, but Tech (11-18, 3-17) rattled off a 10-2 run. After trading kills and service errors, Kansas forged ahead with two kills apiece from Ashley Michaels and Josi Lima.
Two KU service errors and outstanding digs by Tech allowed the Red Raiders to lead for much of Game Two. Kansas tied the score at 14 and finally took the lead at 17-16 when Lima thumped back-to-back kills. Once it got on top, however, KU never looked back and took a 2-0 lead into intermission.
"Midway through Game Two we took their very best shot and said 'No,'" sixth-year Kansas coach Ray Bechard said. "We still fought through it, and I thought then they knew it was going to be difficult.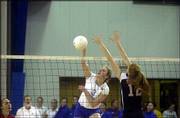 "Tech gave a great effort for not having much to play for tonight, and I thought the Jayhawks did, too."
After struggling through Game Two, the Jayhawks left no doubt in Game Three. Rome thundered three kills during an 8-3 run, and KU's superior blocking spurred a 10-3 run that put the game out of reach.
Rome's final kill pushed the lead to 28-17 before she bowed out, and a pair of kills by freshman Megan Hill put it away.
Lima led Kansas with 15 kills, while Rome and Michaels each had 11. Senior Jordan Garrison had two kills and two blocks in her final home match, while senior Abbie Jacobson fired an ace and had six digs. Juniors Jill Dorsey and Lindsey Morris each had double-digit digs for the KU defense. Kelly Johnson led Tech with eight kills.
With the regular season complete, the Jayhawks now must count the hours until the NCAA Selection Show at 7 tonight. They'll watch the show together in the Memorial Stadium press box.
Kansas was denied a postseason bid last year after finishing sixth in the Big 12 with a 10-10 conference record, but Jacobson said she liked KU's chances better this time around.
"I feel confident," Jacobson said, "but I still don't want to get ahead of myself. Last year still haunts me, but I feel great. They can't deny us. That's kind of how I feel about it. We took third, so you can't deny us really."
Copyright 2018 The Lawrence Journal-World. All rights reserved. This material may not be published, broadcast, rewritten or redistributed. We strive to uphold our values for every story published.