Kansas University had waited long enough.
The Jayhawks' eight-year football postseason drought ended Saturday afternoon when coach Mark Mangino formally accepted an invitation to play North Carolina State in the Tangerine Bowl Dec. 22 in Orlando, Fla.
"Playing a bowl game in the state of Florida has been a long time in coming for our program," Mangino said. "There's been a certain amount of anticipation among our players and coaches hoping that this opportunity would come."
KU has not played in a bowl game since a 51-30 victory over UCLA in the 1995 Aloha Bowl in Honolulu and has not played in a bowl on the mainland since a 10-0 loss to Mississippi State in the 1981 Hall of Fame Bowl at Birmingham, Ala.
The Jayhawks had endured seven straight losing seasons before finishing the regular season at .500 (6-6 overall, 3-5 Big 12 Conference) in Mangino's second season. It was a huge leap from 2002 when KU finished 2-10 and failed to win a conference game for the first time since 1987.
"What they have done in two years is just absolutely wonderful," KU athletic director Lew Perkins said. "If one coach and one staff deserves to go to a bowl -- and a bunch of kids -- it's the University of Kansas. They really paid the price and stayed with it. A lot of other people could have folded their tents, but Mark wouldn't let that happen."
Saturday's announcement came one day after Big 12 officials said league schools would not be allowed to accept bowl invitations until after Oklahoma and Kansas State played the conference championship game Dec. 6 in Kansas City, Mo.
Perkins had other ideas. KU's administrators and coaches were concerned a two-week window would not give the Jayhawks enough time to prepare for an opponent, and their fans needed more time to make travel arrangements.
"I talked to Kevin Weiberg, the commissioner, last night and early this morning," Perkins said. "They looked at it every other way they possibly could to see if there were any issues with us accepting this bid. He came back this morning and called coach and I, and he felt that there was nothing to prevent us from taking this opportunity. He thought it would be good for us and good for the Tangerine Bowl to get it out early so we can help the fans get situated. They felt comfortable that we could accept this and that we had looked at all the other options."
Kansas did have other options, but both Mangino and Perkins declined to reveal the other bowls that had extended invitations.
"I'm not going to get into the whole bowl business," said Mangino, who was a postseason regular as an assistant at Kansas State and Oklahoma. "This will make the 10th bowl for me. I haven't been to a bad bowl yet. They all do a great job. Our kids will really enjoy the Tangerine Bowl based on the information we received from other programs that have played there in the last couple years. They had nothing but great reviews for the Tangerine Bowl and the people that run it."
The Tangerine Bowl -- which will pay KU $750,000 for participating -- made a strong push by sending scouts to numerous games.
"I think one of the factors that weighed in our decision was the presence that the Tangerine Bowl had," Mangino said. "We just constantly had them at our games. They came to my office. They were people that made themselves visible around Jayhawk fans, administrators and the team."
N.C. State (7-5, 4-4 Atlantic Coast Conference) will be making its fourth bowl trip under coach Chuck Amato. The 4:30 p.m. CST game will be broadcast on ESPN.
"I think the newness is going to be a real positive for us," Kansas offensive coordinator Nick Quartaro said. "The energy is going to flow at an all-time high level for us. Our kids will respond favorably to playing on a national stage."
In the only previous game between the two schools, the Wolfpack won the 1973 Liberty Bowl 31-18.
"Just the fact that we're playing a team from the Big 12 -- the conference that is considered the strongest from top to bottom -- presents a great challenge for us," N.C. State coach Chuck Amato said. "They've got their quarterback now and they're a much different team with him.
They're hungry because they haven't been to a bowl in many years," Amato said. "Our players, coaches and fans better get as hungry as they are."
Amato also said jokingly that he and Mangino "can have a macaroni-eating contest, since both of us are Italian."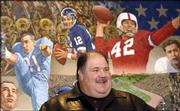 Tangerine Bowl tickets cost $45 and are on sale at the event's Web site -- www.fcsbowls.com.
-- The Associated Press contributed to this report
Copyright 2018 The Lawrence Journal-World. All rights reserved. This material may not be published, broadcast, rewritten or redistributed. We strive to uphold our values for every story published.