They come with brass and glass, snazzy tile and marble detailing. Some even come with blowers, but they all have a glowing flame.
Fireplaces have evolved to offer something for just about any home decor guru who likes an amber glow below the mantle.
The fires still flicker with the warmth of olden days -- and in some instances, more efficiently.
Many fireplace varieties are super efficient, returning as much as 99.9 percent of their heat to a living space, said Winfred Smalley, purchasing manager of Residential Construction Specialties in Hoover, Ala., which sells fireplaces to builders.
Fireplace experts offer several reasons to consider adding a fireplace or second fireplace to a home: Fireplaces can increase a home's value by more than 10 percent, according to the Hearth, Patio and Barbecue Association based in Arlington, Va.
Before choosing, be prepared to pay from $550 to $1,300 for a fireplace. In some models, that doesn't include all the hardware and installation. Most fireplaces come in 36-inch and 42-inch sizes.
Much of what to learn revolves around one big question: How should it heat the house? Whether it's electric, gas or wood-burning, each style offers unique and often zippy new features.
It's easy to begin deciding on a type of fireplace by looking at all the electric power sockets around the house.
If there's no way or desire to install a gas line or add a chimney flue, consider an electric model. An electric fireplace from Lennox called Reflections can be installed many places in the home. It works off an electric outlet using a 3-D flame effect with an image of a real fire projected onto split-oak logs. It even makes crackling sounds.
It also includes a built-in heater and blower. They range from $750 to $2,200.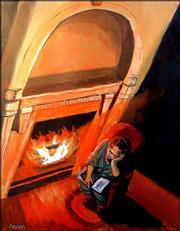 Gas fireplaces -- which glow without the smoke or ash of wood-burning fireplaces -- can be ventless. This means the oxygen for the fire comes from inside the home.
You don't have to build a chimney chase outside the home or deal with the problems a chase can cause, such as rain leakage, Smalley said.
Because there is no vent, the ventless gas fireplace has a cutoff device if the oxygen level drops too low in the room.
It costs from $750 to $850 in the Majestic brand, Smalley said. Many of his customers choose this type of gas fireplace, he said.
Another type of gas fireplace is the direct vent fireplace. It's vented outside through a chimney or a back wall. It's about 65 percent efficient, compared to the 99.9 percent efficiency of the ventless style. It's about $1,300 installed in the Majestic line, Smalley said.
These fireplaces can include high-tech options, such as remote controls. Their flame thermostats can be controlled and fans can be controlled in some lines, experts say.
Choosing one gas type or another can be a system of weighing pros and cons, Smalley explained.
"Vented logs look better; but it's vented, and you lose the majority of heat up the flue," Smalley said.
On many gas fireplaces, using them as electric fireplaces is an option when the gas is off.
These fireplaces are called circulating fireplaces and cost about $160 extra on a gas fireplace, Smalley said.
Wood-burning fireplaces are the old-fashioned style, but they have some new perks, experts say.
They still offer the aesthetics and aroma of burning wood, Smalley said, but wood-burning fireplaces are now enhanced with ceramic glass doors that keep people away from the flame.
The ceramics help the wood's efficiency: The Lennox Brentwood version has a 72 percent efficiency rating, its manufacturers said.
More new engineering on wood-burning fireplaces helps, too, with heat output and better wood ignition, experts say.
But these fireplaces don't have to burn wood exclusively. A gas line installed in a wood-burning fireplace can help start the wood, experts said.
The costs of this style can range from $550 to $650, Smalley said.
Modern details aside, fireplaces of all kinds still give off a glowing orange heat that looks like it did at Grandma's house.
That need for heat won't change, at least.
"Most homeowners like the idea of having an alternate heat source," Smalley said.
Copyright 2018 The Lawrence Journal-World. All rights reserved. This material may not be published, broadcast, rewritten or redistributed. We strive to uphold our values for every story published.